Coulter Field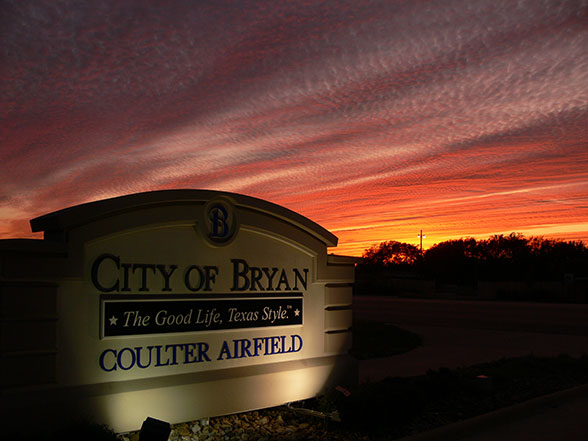 Coulter Field is a tremendous asset to the City of Bryan, and leaders have set a goal of building on the airport's successes and developing a solid business plan to lead its future.
The land on Texas 21 where Coulter Field sits was donated by the W.J. Coulter Family in 1938.
The City of Bryan later bought some adjacent property, which now comprises the 247-acre City-owned airfield.
The airport is home to numerous aviation enthusiasts and even hosts EAA Chapter 1531. Coulter continues to serve as the hub for PHI Air Medical helicopter service.
Coulter Field is conveniently located near Easterwood Airport (CLL), and Texas A&M's Kyle Field located approximately 11 miles to the southwest of Bryan. We are also located within less than 108 miles from Bush Intercontinental Airport (IAH), southeast of Bryan in Houston, and Austin Bergstrom International Airport (AUS), approximately 101 miles to the west of Bryan in Austin. So whether you're in town for an SEC game, or here just to visit, stop in and make Coulter Field your general aviation stop.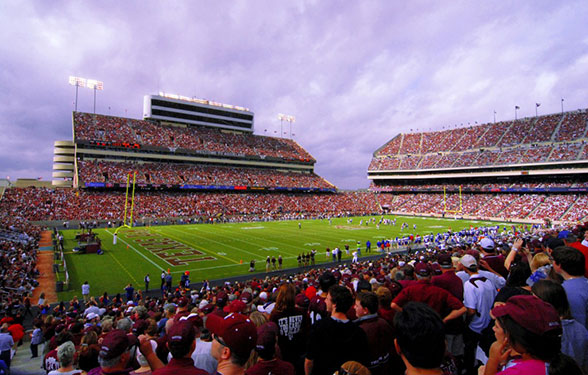 Amenities
These are just a few of the amenities that we provide:
Free WiFi in the terminal building
Full Service and 24-hour self service 100LL and Jet A
Conference room usage (contact airport staff for reservations)
Flight planning area with computer access
Hangars
Pilot's Lounge
Tie Down
Soft Drink Vending Machine
Courtesy car (During Business Hours Only)
FAA: How to become a pilot
Are looking to become a pilot? Look no further! Dawson Aviation is a veteran-owned flight school based at Coulter. They offer scenario-based flight training techniques that focus on developing risk management and decision-making skills in addition to learning how to operate an aircraft. Dawson Aviation can assist you with earning a Private Pilots License, Instrument Rating, or a Commercial Pilots License.
Is it hard to learn to fly?
No. People of all shapes and sizes, ages and abilities have learned to fly. It's fun, and from the beginning of your training, you get to do most of the actual flying! On the practical side — while flying isn't a difficult skill to learn, you'll have to be willing to stick with it until you meet all the requirements. Also, you should consider the cost of becoming a pilot — you'll have to pay for your physical exam and your lessons.
When can I start?
Right away. All you have to do is find a flight instructor and sign up for an introductory lesson. You don't have to have a student pilot's certificate or a medical certificate to take flying lessons. Of course, you won't be able to fly solo right away. That takes time and the paperwork described in this guide.
How many lessons do I have to take before I solo?
It depends on you. There is no set number of lessons or hours of flight training. Your instructor must make sure you have learned to perform certain maneuvers before allowing you to solo. These maneuvers include safe takeoffs and landings. You must use good judgment when flying and be able to keep control of the aircraft. Also, you'll have to get a medical certificate and a student pilot's certificate to fly solo.
Is flying safe?
Yes. A well-built and well-maintained aircraft flown by a competent and prudent pilot is as safe or safer than many other forms of transportation.
If engine failure occurs, what will happen?
Modern aircraft engines are reliable and failure rarely occurs. However, your lessons will cover what to do in this situation, including selecting a good landing area and safely landing.
The Texas Flying Club (formerly the Texas A&M Flying Club) is a nonprofit organization with the main focus of providing a safe, affordable, and fun environment for pilots, aspiring pilots, and aviation enthusiasts. We own three airplanes and have facilities at Coulter Field in Bryan, TX; as a member, you a part owner of each of the club's aircraft. The club is run by members, for the members; we work hard to keep our rates as low as possible, you won't find better rates anywhere!
No aviation background is necessary to join, everyone is welcome.
NOTAMS
NOTAMs are issued by the DoD/FAA and will open in a separate window not controlled by Coulter Field.
04/118 – OBST SUPPL WDI 460 FT SW AER 15 UNLGTD. WIE UNTIL UFN. CREATED: 12 APR 18:52 2011
04/117 – OBST HANGARS UNLIT 450 FT SW AER 15. WIE UNTIL UFN. CREATED: 12 APR 18:48 2011
07/117 – RWY 33 REIL U/S. WIE UNTIL UFN. CREATED: 12 JUL 00:31 2011
Announcements
No announcements at this time.