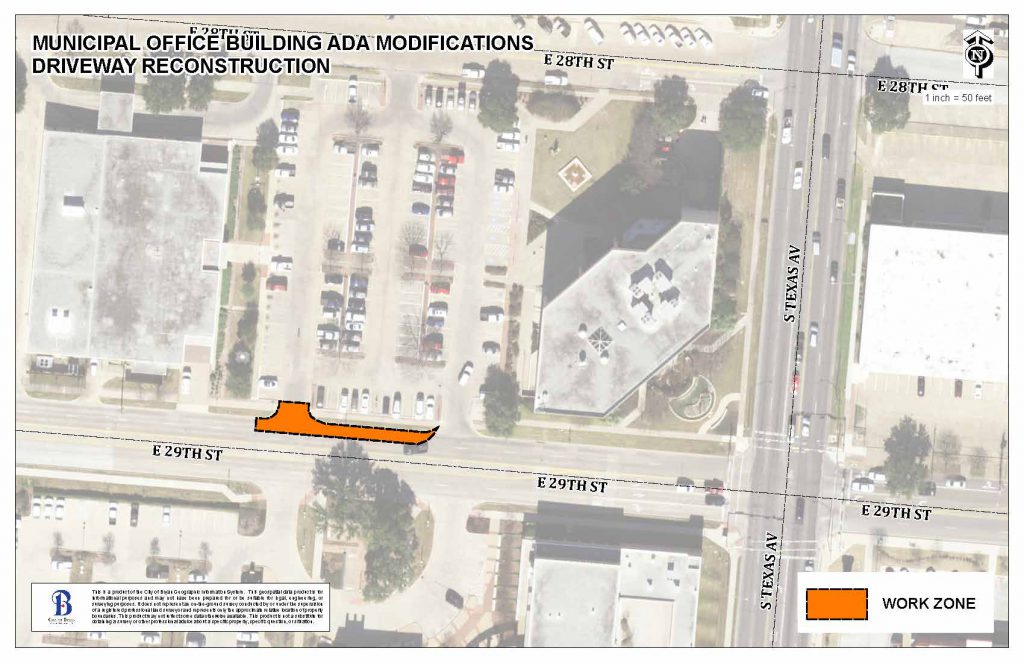 On Wednesday, April 12th, contractors will close the East 29th Street entrance closest to Bryan Texas Utilities (BTU) for reconstruction as a part of the ADA accessibility modifications underway at the City of Bryan Municipal Office Building. It is anticipated this entrance will remain closed for approximately seven days, weather permitting. In addition, the westbound, right-hand lane of East 29th Street between South Texas Avenue and South Tabor Avenue will be temporarily closed on Wednesday, April 12th, and is expected to reopen no later than Thursday, April 13th. The entrance on East 29th Street closest to South Texas Avenue will remain open.
This project is to improve accessibility to both the Municipal Office Building (MOB) and BTU. Modifications to the parking lot and sidewalks for the MOB entrance started with the construction of a temporary ramp and the reconstruction of the sidewalk along 29th Street from the Texas Avenue intersection to the first MOB driveway. Next, the East 29th Street entrance closest to South Texas Avenue and the sidewalk between the two East 29th Street entrances were completely reconstructed.
During construction, visitor parking may be shifted and some parking spaces may be temporarily closed. Work areas will be fenced off, but visitors are encouraged to use caution and follow posted signage. There also will be temporary lane closures along 28th and 29th Streets between Texas Avenue and the MOB driveways. Drivers are asked to obey traffic control signs and use caution.
This accessibility improvement project also includes the following: replacement of existing up-lighting with LED bollards; modifications to improve accessibility between BTU and the MOB; reconstruction of parking lot medians; and replacement of parking lot lighting. It is anticipated the project will continue through May 2017 with temporary closures of sidewalks and parking spaces during each phase. This project does not include interior modifications to the MOB or BTU.
Building access and accessible parking will be maintained throughout the entirety of the project. To learn more about this Capital Improvement Plan project, including a project map and construction plans, please visit our general projects page. For additional details, contact Matt Dawson-Mathur by email at mdawson@bryantx.gov or by phone at 979-209-5030.