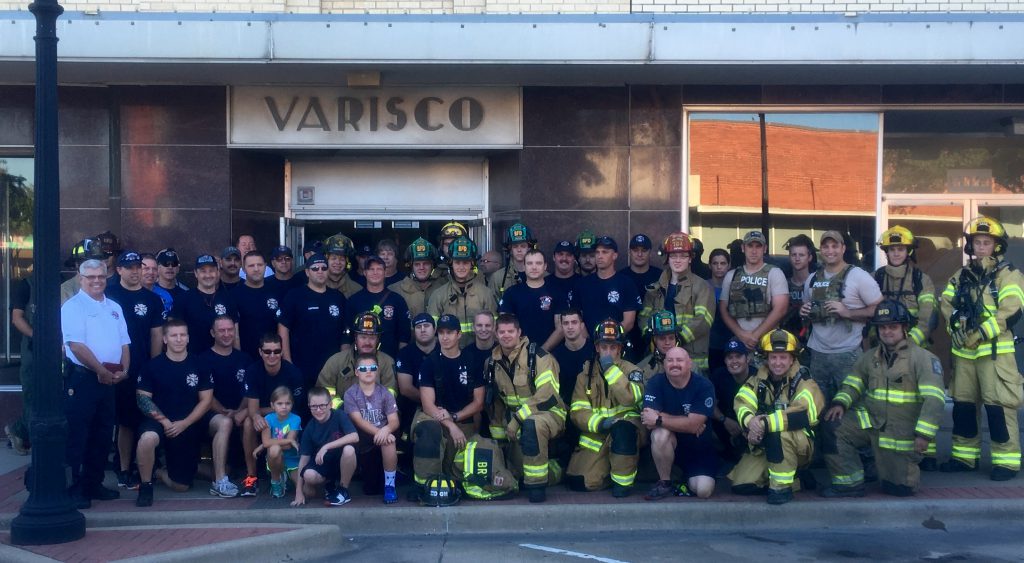 On Sunday, September 11, beginning at approximately 8:30 a.m., first responders throughout our community (as well as surrounding communities) will participate in the annual 9/11 memorial stair climb at the Varisco Building in Downtown Bryan. The 110 story climb is to honor and remember the first responders that made the ultimate sacrifice on Tuesday, September 11, 2001.
The public is invited to show their support for the firefighters, police officers, and other first responders who are climbing in memoriam of those lost that day. Participants will climb to the top floor of the Varisco Building fifteen times then go back up to the fifth floor to mirror the 110 stories first responders scaled on 9/11. A special thank you to Fibertown for letting the Bryan Fire Department use this building each year to host the event.
What: 9/11 Memorial Stair Climb
When: Sunday, September 11, 2016 at 8:30 AM
Where: Varisco Building, 215 North Main Street
Those making the climb are doing so in an effort to carry on the memory of 343 New York City Firefighters lost; 37 Police Officers of the New York Port Authority and the New Jersey Police Department; 23 New York Police Officers; and 8 EMS responders. In addition, the New York Fire Department also lost their Department Chief, Deputy Commissioner, one Chaplain, and one Fire Marshal.
You are invited to support first responders as they make their annual climb in memoriam of the lives lost on September 11, 2001. To see what this event is all about, we encourage you to take a look at the 2015 climb and make plans to show your love for those that place their lives on the line each and everyday to make life #BetterInBryan.