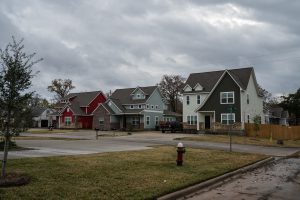 For the last 13 months, a Planning and Zoning Commission subcommittee has been researching solutions to address land use and structures commonly referred to as "stealth dorms", i.e., by-the-room occupancy of single-family homes in established Bryan neighborhoods.
On September 21, 2017, the Planning and Zoning Commission voted to recommend that the City Council amend Bryan Code of Ordinances Chapter 62, Land and Site Development, and Chapter 130, Zoning, adding new definitions for "detached shared housing" and "bedroom", adding specific use standards for detached shared housing, and determining in which zoning districts said use would be permitted.
On October 10, 2017, the City Council postponed consideration of the proposed text amendments, urging the Planning and Zoning Commission subcommittee to hold further discussions with builders and to review stated concerns about enforceability of the new regulations.
In the months since the Council's October 10 meeting, the Commission's subcommittee has met weekly or biweekly and continued to study the issue of "stealth dorms" and refine previously recommended solutions.
During a special meeting on January 18, 2018 the Bryan Planning and Zoning Commission considered the Subcommittees findings and unanimously voted to recommend approval of the proposed changes to the Bryan City Council.
The City Council considered the Commission's proposed amendments at the Workshop meeting on January 23, 2018.  The City Council is scheduled to consider the proposed text amendments on February 13, 2018 at the regular meeting beginning at 6:00pm.
Citizen comments are welcome prior to the meeting via email or written letter, in addition to during the public hearing portion of the meeting. Please email input to Planning@bryantx.gov or deliver in person at 300 S Texas Ave.
Please contact the Planning and Development Services Department with any questions at Planning@bryantx.gov or 979-209-5030.