Census 2020: Everyone Counts
Time is running out to complete your 2020 Census. The deadline to be counted has been moved up to Sept. 30.

Every 10 years, the U.S. Census Bureau conducts a census to determine the number of people living in the United States. This process of counting the nation's population is mandated in Article I, Section 2 of the Constitution. The data obtained from the decennial census provides the basis for reapportioning Congressional seats and the distribution of over $675 billion in federal funding to support services and infrastructure for our community.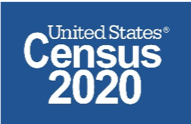 The City of Bryan encourages every citizen to participate in the census to ensure an accurate representation in Congress and our fair share of federal funds for schools, hospitals, roads, public works and other vital programs.
You will be able to reply to the census, using one of three methods: online, by phone, or by mail.
Your responses to the 2020 Census are safe, secure, and protected by federal law. Your answers can only be used to produce statistics and they cannot be used against you in any way. In fact, every Census Bureau employee takes an oath to protect your personal information for life.
Get Involved, Get Information, Get Counted

Who Should Be Counted? And Where?

When determining where you should be counted, the Census Bureau states someone should be counted, or enumerated, at their usual address if they:

Live or stay at the residence most of the time; or
Stayed there on April 1, 2020 and had no permanent place to live; or
Stay at the residence more time than any other place they might live or stay

For most college or university students, it may be confusing as to where they would be counted. Would they be counted at their parent's home since they pay the bills or because their parent's claim them as dependents?

The answer is no. They should be counted where they live most of the time.

Your Census Responses are Safe and Secure

The Census Bureau is required by law to protect any personal information we collect and keep it strictly confidential. The Census Bureau can only use your answers to produce statistics. In fact, every Census Bureau employee takes an oath to protect your personal information for life. Your answers cannot be used for law enforcement purposes or to determine your personal eligibility for government benefits.

By law, your responses cannot be used against you

By law, your census responses cannot be used against you by any government agency or court in any way—not by the Federal Bureau of Investigation (FBI), not by the Central Intelligence Agency (CIA), not by the Department of Homeland Security (DHS), and not by U.S. Immigration and Customs Enforcement (ICE). The law requires the Census Bureau to keep your information confidential and use your responses only to produce statistics.

The law is clear—no personal information can be shared

Under Title 13 of the U.S. Code, the Census Bureau cannot release any identifiable information about individuals, households, or businesses, even to law enforcement agencies. The law states that the information collected may only be used for statistical purposes and no other purpose. To support historical research, Title 44 of the U.S. Code allows the National Archives and Records Administration to release census records only after 72 years.

All Census Bureau staff take a lifetime oath to protect your personal information, and any violation comes with a penalty of up to $250,000 and/or up to 5 years in prison.

Responding to the Census

Every household will have the option of responding online, by mail, or by phone. Nearly every household will receive an invitation to participate in the 2020 Census from either a postal worker or a census worker.

95% of households:

Will receive their census invitation in the mail.

Almost 5% of households:

Will receive their census invitation when a census taker drops it off. In these areas, the majority of households may not receive mail at their home's physical location (like households that use PO boxes or areas recently affected by natural disasters).

Less than 1% of households

Will be counted in person by a census taker, instead of being invited to respond on their own. This is done in very remote areas like parts of northern Maine, remote Alaska, and in select Native American areas that ask to be counted in person.

Note: The Census Bureau has special procedures to count people who don't live in households, such as students living in university housing or people experiencing homelessness.

What to Expect in the Mail

When it's time to respond, most households will receive an invitation in the mail. Every household will have the option of responding online, by mail, or by phone. Depending on how likely your area is to respond online, you'll receive either get an invitation encouraging you to respond online or an invitation along with a paper questionnaire.

Letter Invitation

Most areas of the country are likely to respond online, so most households will receive a letter asking you to go online to complete the census questionnaire.
The Census Bureau will work with the U.S. Postal Service to stagger the delivery of these invitations over several days.

Letter Invitation and Paper Questionnaire

Areas that are less likely to respond online will receive a paper questionnaire along with their invitation. The invitation will also include information about how to respond online or by phone.

Every household will receive reminders and will eventually receive a paper questionnaire if they haven't responded to the initial invitations. It doesn't matter which initial invitation you get or how you get it, the Census Bureau we will follow up in person with all households that don't respond.

BCS Complete Count Committee

The Bryan College Station Complete Count Committee's goal is to educate and motivate our community to participate in the 2020 Census. When community members are informed, they are more likely to respond to the census. Through this communication effort we can reach the goal of counting everyone in the 2020 Census and receive our fair share of more than $675 billion in federal funding for our community and accurate representation in the United States House of Representatives and redistricting boundaries. The Bryan College Station Complete Count Committee is comprised of government and community leaders, from education, faith-based, business, healthcare, and other community organizations.

Meeting Summary: Oct. 15, 2019

On Oct. 15, 2019, the Brazos Valley Council of Governments (BVCOG) hosted our first joint Bryan College Station Complete Count Committee meeting to discuss what a Complete Count Committee (CCC) is, the role of a member of the Bryan College Station CCC and how to get the best count in our area for the 2020 Census. Cynthia Cruz, Partnership Specialist from the Census Bureau, presented a 1.5-hour PowerPoint training session on CCCs and then held a Q&A session to close out the meeting.

Meeting Summary: Jan. 22, 2020

On Jan. 22, 2020, the Brazos Valley Council of Governments (BVCOG) hosted the second joint meeting of the Bryan College Station Complete Count Committee. During this meeting members worked together to provide solutions for the most common reasons why people do not complete their census forms. These solutions will serve as the basis for outreach in our community to reach our goal of having everyone counted in the upcoming 2020 Census. Subcommittees were organized to help focus outreach efforts: Business/Labor, Community/Faith-Based, Education, Government, Media/Communications, and Spanish Speaking.

The Census Timeline

2018

March: Census Bureau delivers questions to Congress

April: Open 6 regional census centers

October: Full implementation of the communications program

October: Partnership specialists begin working for Census Bureau

2019

January-March: Open 40 area census offices

June-September: Open remaining 208 area census offices

August: Conduct in-field Address Canvassing

2020

January: Begin enumeration in remote Alaska

February: Group Quarters Operation begins

March: Update Leave begins

March: Internet Self-Response begins

April 1: Census Day

May: Nonresponse Followup begins

December 31: Deliver apportionment counts to the President

2021

March 31: Complete delivery of Redistricting Summary Files to all states (P.L. 94-171)

Job Opportunities

The Census Bureau is looking for people to help with the 2020 census. So, why don't you apply?

Earn Extra Money

Could you use a little extra income? Jobs for the 2020 Census offer competitive wages that are paid weekly. Authorized expenses, such as mileage, are reimbursed for employees doing fieldwork.

Support Your Community

Decennial census data are used to determine your representation in Congress, as well as how funds are spent for roads, schools, hospitals, and more. Help ensure that everyone in your community is counted in the next decennial census.

Fit Your Schedule

Temporary positions for the 2020 Census feature flexible hours—a perfect fit if you are looking to earn a little extra money, even if you already have other commitments.

Be a Part of History

Every 10 years since 1790, the United States has undertaken the momentous task of counting all of its residents. This is your chance to play a role.

Questions? Contact the local recruiters:
Interactive Map: "Hard to Count" Populations
The goal of the census is to count each person in the United States based on their residence as of April 1. For the 2020 census, each household in the U.S. will either receive mailed instructions on how to fill out the census questionnaire online, or they will receive the actual questionnaire. The Census Bureau asks that as many households as possible submit their responses to this questionnaire via the Internet or by mail — this is the self-response component of the decennial census.
In prior censuses, the self-response rate in many parts of the country has been relatively high. But in other parts of the country and for some population groups more than others, the self-response rate has been relatively low. Households may not have submitted their census questionnaire for various reasons, such as having language difficulties, concerns about trust in government, or otherwise.
Videos
In English
2020 Census: Everyone Counts
En Español
El Censo Del 2020: Sea Contado
Consejos Para Mantenerse Seguro
More Information / Contact Us
For more information about the 2020 Census and how it affects the City of Bryan, please contact Allison Kay in the City's Development Services Department at akay@bryantx.gov, or by phone at 979-209-5030.
For more general census information, please visit: https://www.census.gov/
Census Participation Gift Card Giveaway Rules
The City of Bryan will be giving away gift cards to local businesses through social media with bi-weekly contest on Facebook, Instagram and Twitter from May 18 through Aug. 10.

To enter the contest, you must follow the rules outlined on each social media post. All posts will require that the entrant attest that they have filled out their census at My2020Census.gov. Five randomly selected winners will be chosen during each bi-weekly contest.

Eligibility requirements for all winners:
You must live in the City of Bryan, Texas
You must be 18 or older
You may enter as many contests as you would like, but individuals may only win once.
Winners may not be employed by the City of Bryan/BTU.
These contests are in no way sponsored, endorsed, administered by or associated with Facebook, Twitter or Instagram.