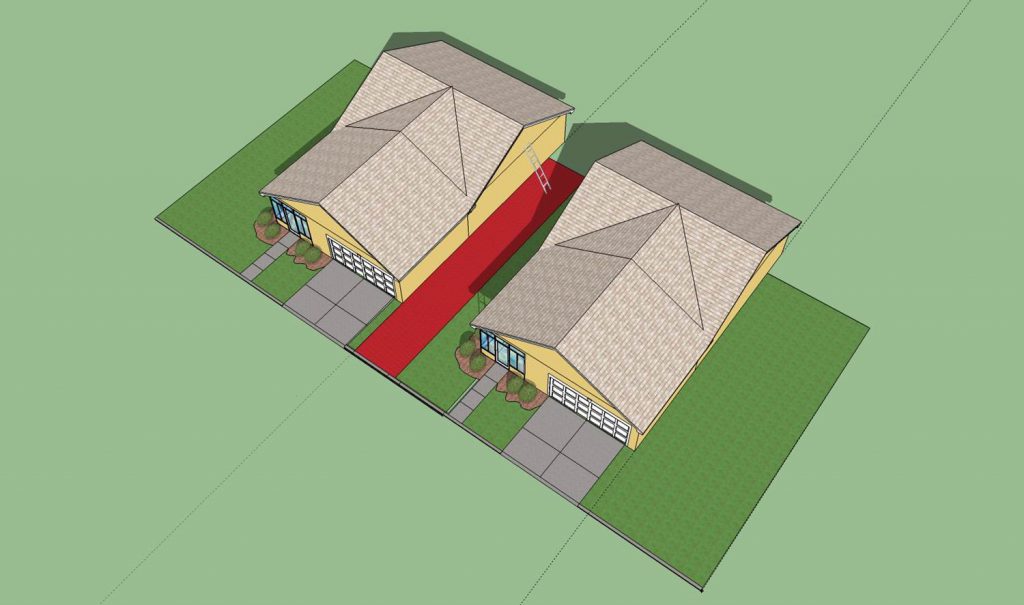 Patio homes, also known as Zero Lot Line Dwellings, are detached, single-family dwelling units located on an individual lot with one wall of the home built on the lot line.  Lots intended for the development of a patio home must be at least 3,600 square feet with a minimum width of 36 feet and a minimum depth of 100 feet. Building setbacks for patio homes depend on the location of the off-street parking and driveway.
Until recently, the City's development regulations did not guarantee patio home owners access to the exterior of building walls that are built on  zero lot lines and that are accessible only by entering the abutting property. In an effort to preserve property owner's rights the Bryan City Council recently considered and unanimously approved an ordinance to require the dedication of maintenance easements on properties intended to be developed with patio homes.
Maintenance easements are defined as a perpetual private access easement on the lot adjacent to a zero lot line, for the maintenance of the wall of a single-family dwelling built on the zero lot line. This required maintenance easement shall be in favor of the lot on which a patio home is planned at the boundary to which this easement is adjacent.  The maintenance easement shall extend along the entire length of the side (zero) lot line to which it is adjacent and be dedicated by subdivision plat.
The appropriate sections of the Bryan Code of Ordinances have been updated to reflect the recently passed ordinance, including additions to chapter 62 – Land and Site Development, and chapter 110 – Subdivisions.  Maintenance easements shall be a minimum of 7.5 feet in width and extend along the entire length of the side (zero) lot line to which it is adjacent. Additionally, a note will be required on the subdivision plat to clarify the purpose of the maintenance easement.
For additional information about maintenance easements, patio homes, or the platting procedure please contact Stephanie Doland, Staff Planner at sdoland@bryantx.gov or (979) 209-5072.