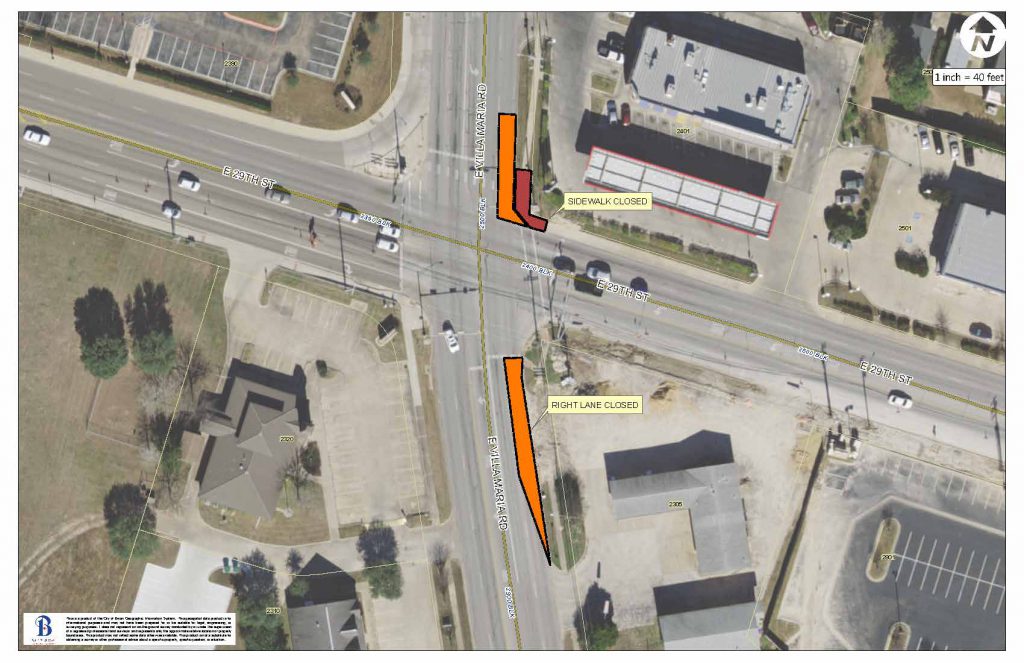 Beginning Monday, July 24, 2017, contractors will close the northbound, right-hand lane of Villa Maria Road at the East 29th Street intersection to reconstruct the sidewalk and install new traffic signals. The sidewalk on the northeast corner of the intersection will also be closed. This closure is expected to last through the week and is part of the CHI St. Joseph Hospital Area Improvements project.
WHAT: Temporary Lane Closure
WHERE: Northbound, right-hand lane of E. Villa Maria Road at E. 29th Street
WHEN: Monday, July 24th, through Monday, July 31st
Approved by Bryan City Council on May 24, 2016, the CHI St. Joseph Hospital Area Improvements project will provide traffic signal, street, sidewalk, and underground utility improvements along East 29th Street from East Villa Maria Road to Memorial Drive. The roadways in the vicinity of CHI St. Joseph Hospital will be impacted throughout the construction period which is anticipated to continue over the next several months.
Please expect 25 MPH speed limits within the work zone. Drivers are encouraged to utilize alternate routes or allow extra travel time. In addition, drivers are asked to please use caution and pay special attention when traveling through the construction area.
For additional information including a project area map and construction plans, please visit our Capital Improvements Project page.