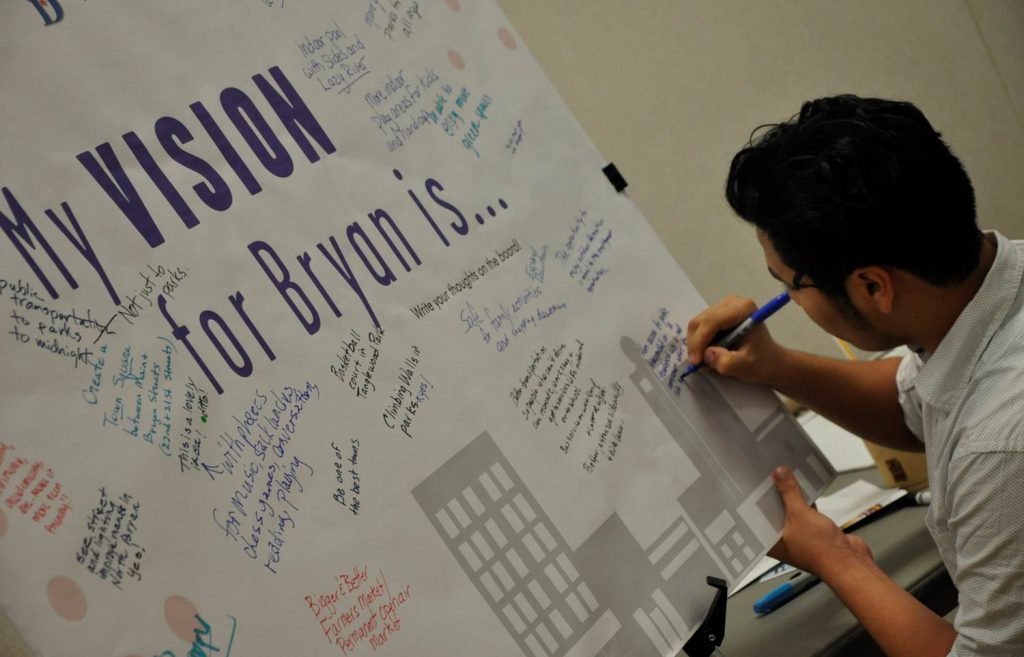 Following a 15-month planning and public input process, Freese and Nichols, Inc., the planning consultant, is now presenting the final draft plan, Blueprint 2040, for review by the Planning and Zoning Commission and Parks and Recreation Advisory Board. With the recommendation from both advisory boards, the City Council will consider adopting the Plan during its regular meeting in October.

The Commission, Board, and Council meetings will all take place at the Bryan Municipal Office Building, located at 300 S. Texas Ave.
Planning and Zoning Commission Meeting: Sept. 15 at 6 p.m., Council Chambers
Parks and Recreation Advisory Board Meeting: Sept. 20 at 6 p.m., Basement Training Room
City Council Meetings: on Oct. 11 and Oct. 25, at approx. 5:45 p.m., Council Chambers

View the proposed plans:

The Comprehensive Plan is a long-term guide for the community that defines community values, identifies community opportunities and weaknesses, and provides direction on how and where the community should grow, develop and redevelop.  The Parks Master Plan provides guidance on current and future parks and recreation facilities, including ways to enhance existing parks and how to plan for future needs.
A large component of the planning process includes collecting citizen input and working with business owners, developers and City staff to determine existing conditions and areas for improvement.  The proposed draft includes the input collected during the public engagement portion of the update and highlights recommendations and actions pertaining to various City policies and programs. Some of the chapters of the Plan include:
Land Use
Municipal Services
Economy
Wellness
Education
Community Appearance
Transportation
Parks and Recreation
For more information please contact the Development Services Department at (979) 209-5030 or email Planning@bryantx.gov or visit the Planning and Development Services webpage.