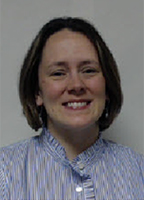 On January 3, the Development Services Department welcomed a new team member, Staff Planner Allison Kay. Allison is a graduate from Texas A&M University with a Bachelor's Degree in Political Science and minor in Geography. Allison also completed the Graduate Certificate in Geographic Information Systems this past May from Texas A&M.
In her spare time Allison enjoys spending time with her husband Michael and sons, James and William, as well as traveling and playing volleyball.
As a staff planner, Allison will join the Site Development Review Committee (SDRC) which is responsible for reviewing proposed site plans, exceptions to subdivision regulations as well as replat and final plat requests. Allison will also be a case manager for various requests considered by the Planning and Zoning Commission; such as, planning variances, replat and rezoning requests, conditional use permits, and right-of-way abandonments.
Allison has also joined the department's "staffer on call" service, which helps ensure that a staff person is available during all business hours to assist customers both in person and over the phone.  If you have any questions for Allison, please give her a call at (979) 209-5030 or email akay@bryantx.gov.