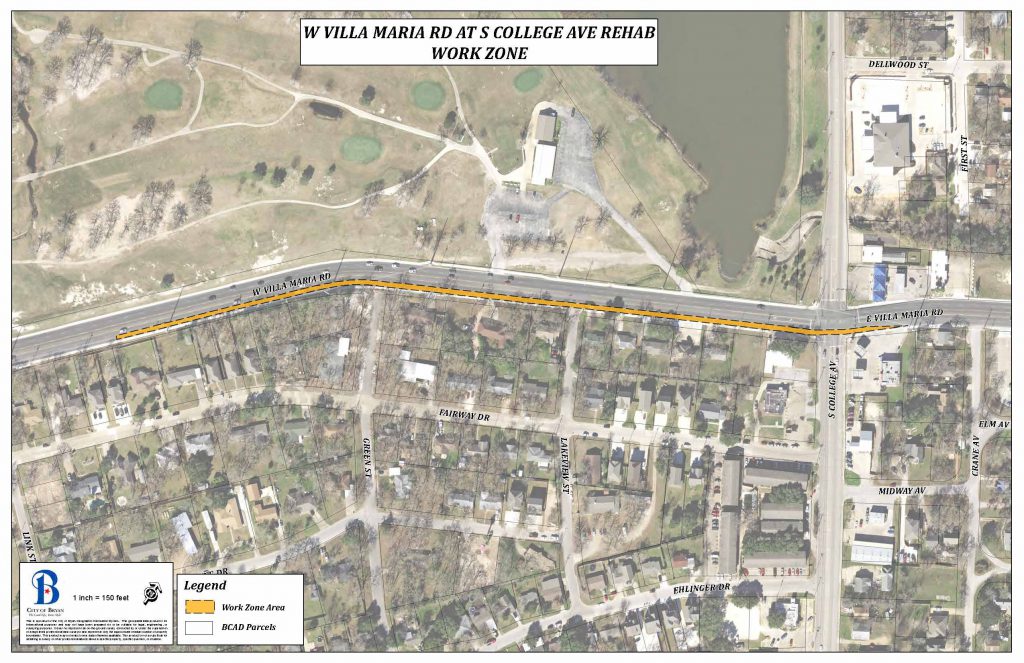 On Monday, July 24, 2017, construction crews will close the eastbound, right-hand lane of West Villa Maria Road starting just before Green Street and continuing through the South College Avenue intersection to Crane Avenue. Drivers will still be able to access South College Avenue from West Villa Maria Road and East Villa Maria Road.
WHAT: Lane Closure
WHERE: Eastbound, right-hand lane of W. Villa Maria through the S. College Avenue intersection
WHEN: July 24th through July 28th – 7 AM to 5 PM, Daily
Awarded by Bryan City Council on May 11, 2017, this $2.8 million Capital Improvement Plan (CIP) project will be completed by Larry Young Paving and includes the replacement of traffic signals; the installation of new water, sanitary sewer, and storm water lines; new underground telecommunication conduit; and reconstruction of the roadway.
Drivers are encouraged to follow the posted detour signage, utilize alternate routes, and allow extra travel time during the construction period. In addition, drivers are asked to please use caution and pay special attention when traveling through the construction area.
For additional information on this project, including a project map, please visit our Street and Sidewalk Projects page.