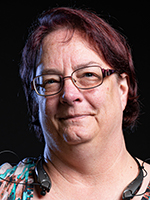 The City of Bryan would like to introduce Lisa Miller as the City's new Drainage Inspector.
Lisa started her environmental compliance career in 2002 in the consulting industry, and then spent six years in municipal compliance with the City of Waco. Lisa has 17 years of experience working with the Construction General Permit and six years of experience working with the municipal permit.
Lisa will graduate from Texas State Technical College in August with associate's degrees in Environmental Technology and Occupational Safety Compliance Technology. She plans to start on her bachelor's degree in September.
Lisa is here to help property owners, builders, developers and contractors with any questions about stormwater management, drainage issues or erosion control. Lisa Miller, City of Bryan Drainage Inspector[/caption]She is also working to update the City's current Stormwater Management Plan, which was adopted to comply with State and Federal regulations and to improve the quality of life in our city.
If you have any questions for Lisa about stormwater management in Bryan, feel free to reach out to her by phone at 979-209-5030 or email at lmiller@bryantx.gov.