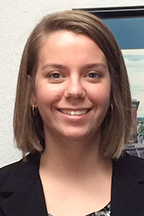 On August 15, 2016, the Development Services Department welcomed a new team member, Staff Planner Lindsay Hackett. Lindsay is a graduate from Texas A&M University with a Master's Degree in Urban Planning. Lindsay's Master's degree focus was on poverty alleviation and affordable sustainability.
Her previous work experience includes the City of Bryan's Community Development Department and the Texas A&M Institute for Sustainable Coastal Communities. In her spare time Lindsay enjoys traveling with her husband and visiting Lake Bryan with her Australian Shepard.
As a staff planner, Lindsay will assist with planning and development review responsibilities, administration of City ordinances, and guide citizens through the development review process.  Planners are case managers for a variety of current planning activities including requests for site plan and sign permit approval, zone change requests, conditional use permits, planning variances, right-of-way abandonments, exceptions to subdivision regulations as well as replat and final plat requests.
Lindsay has also joined the department's "staffer on call" service, which helps ensure that a staff person is available during all business hours to assist customers both in person and over the phone.  If you have any questions for Lindsay please give her a call at (979) 209-5030 or email lhackett@bryantx.gov.