Scooters in Bryan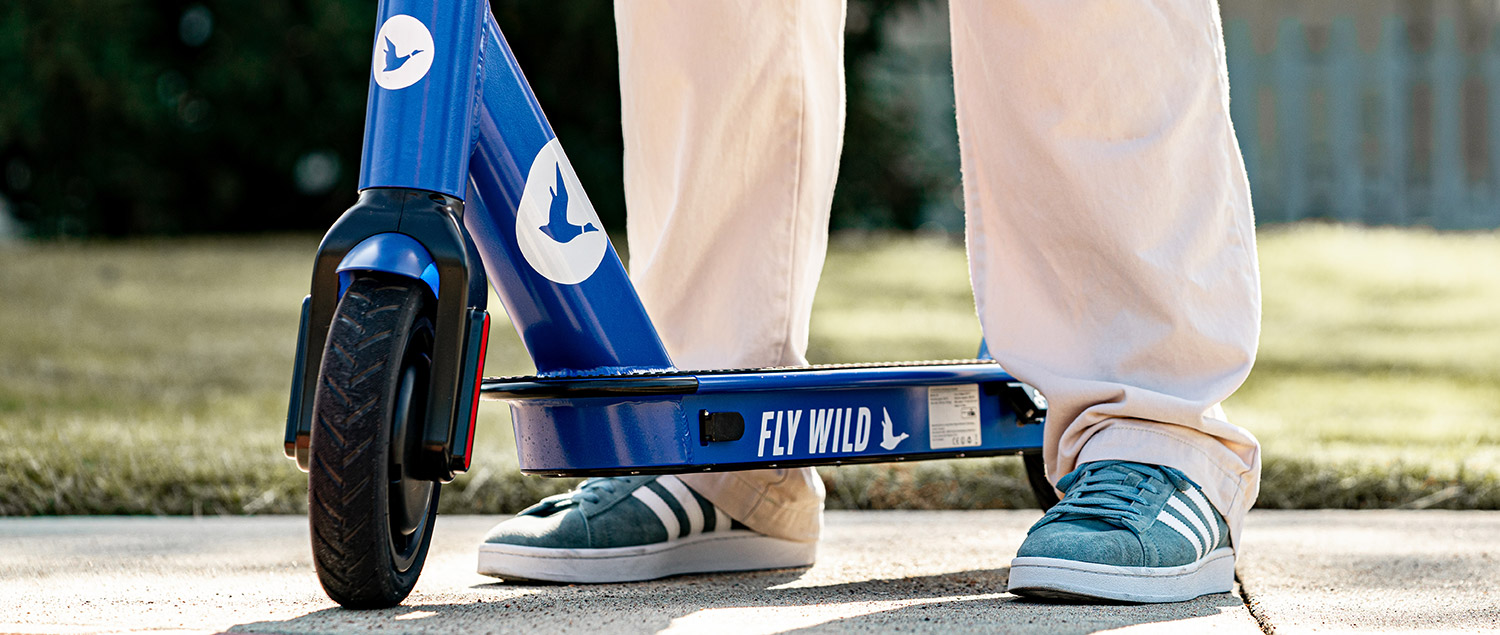 Blue Duck Scooters are Now in Bryan
Blue Duck Scooters are now in town as part of a pilot program with the City of Bryan.
Blue Duck is placing 100 electric scooters in Downtown Bryan, at Blinn College and in surrounding areas to help enhance local mobility in the area. Rides will cost $1 to activate the scooter and $0.25 per minute to operate. The scooters will be geofenced to operate only within designated areas in Bryan.
Scooters will be available throughout Bryan each morning at approximately 7 a.m. and Blue Duck will deactivate all scooters at 10 p.m. each night. (Riding is not allowed between 10 p.m. and 7 a.m.) Any scooters that need to be recharged, or need maintenance, will be collected overnight and placed back in designated areas by about 7 a.m. The city's agreement with Blue Duck also stipulates the company will respond quickly to relocate inappropriately placed scooters when reported. These scooters will then be placed back in a strategically designated area.
How to Use Them:
Blue Duck Apps / Website

The Blue Duck apps and website have all the information you need to start your scooter experience in Bryan.
How Did We Get Here
In January, the Bryan City Council authorized staff to investigate implementing scooters as a form of shared mobility in the city. Staff chose to work with Blue Duck Scooters for the pilot program due to the company's ability to restrict scooter usage to certain areas, its commitment to safety and its practice of hiring local employees to maintain the scooter fleet.
Safety

Scooter riders must be at least 18 years old and should:

Observe the same laws as motor vehicle drivers.
Ride on roads that are under 35 miles per hour, and stay in bike lanes, on the street or on shared-use paths. Please do not ride on sidewalks.
Ride alone on scooters. Only one person is allowed per scooter.
Wear a helmet. The city encourages everyone to wear a helmet while riding, and people who are under 21 must, by law, wear one. Blue Duck Scooters is providing free helmets to those who request one.
Park in preferred parking areas, or "landing zones," which are established in areas where it is safe to park scooters after riding. Riders should never block ADA ramps or sidewalks with a parked scooter.
Frequently Asked Questions
Why are scooters left in random places?
People use the scooters in various ways. As a final-mile mode of transportation. As a recreational endeavor. As a quicker way to get to Downtown Bryan for lunch. Blue Duck can't control where people leave the scooters when they're finished, but Blue Duck has a team of workers who go out three times a day to relocate scooters that have been left in locations outside of the approved "landing zones."
Why are scooters still out after 10 p.m.? I thought they were going to be picked up by then.
Scooters are left out overnight in most circumstances. But they are deactivated at 10 p.m. This means that no one is able to ride a scooter from 10 p.m. until 7 a.m. the next day. Scooters that need maintenance, or need to be recharged, are picked up overnight and then placed back into their designated location by 7 a.m. the next day.
Where can I report inappropriately placed scooters?
Report inappropriately placed scooters by calling 281.520.6787 or by submitting a support request on Blue Duck's website or in their app. The city's agreement with Blue Duck stipulates that the company will respond quickly, and the company has indicated they are relocating scooters approximately three times per day.
How do I report scooter riders who are not following the law?
You can call the Bryan Police Department at 979.209.5300.
How much is the City of Bryan paying for the scooters?
Zero. The agreement with Blue Duck for this pilot program simply allows Blue Duck to operate no more than 100 scooters in designated areas of Bryan. There is no cost to the city for this pilot program.
How long will this program run?
The initial pilot program is for six months. At that time, the city will reevaluate the program and take further action as appropriate.