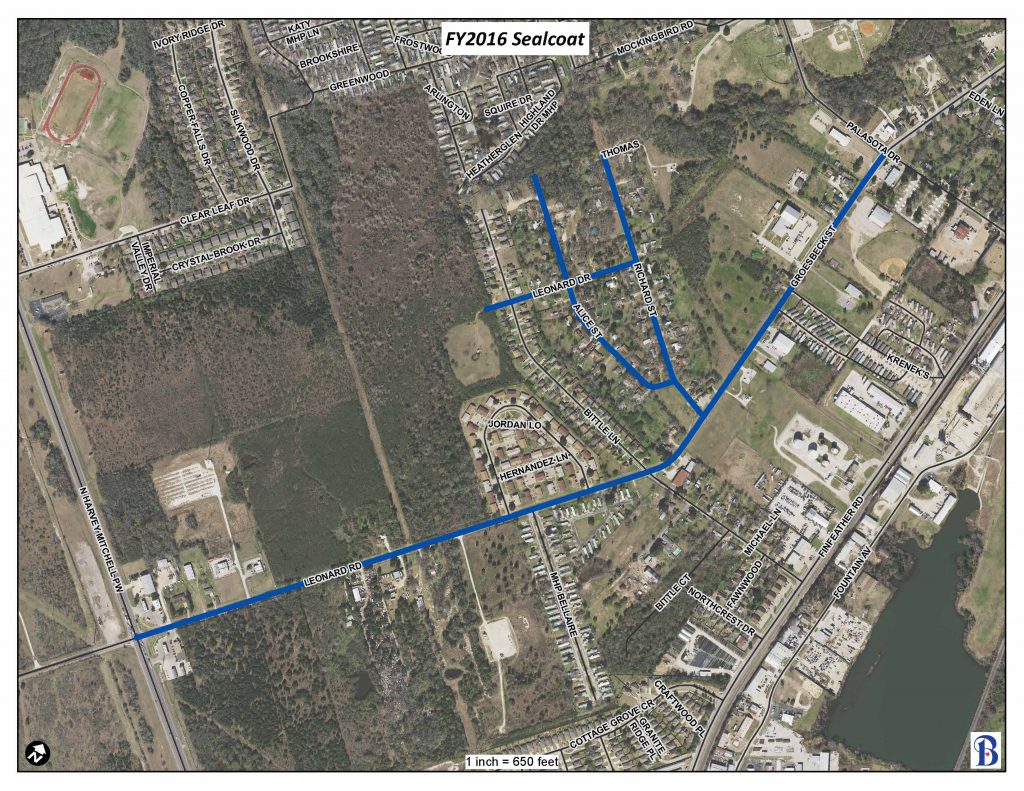 On Wednesday, March 15th, and Thursday, March 16th, Brazos Paving Inc. (BPI) crews will begin sealcoating Leonard Road from Harvey Mitchell Parkway (FM 2818) to Palasota Drive. Please note traffic flow will be reduced to one lane. Work will be performed daily from 8 AM until 5 PM, weather permitting.
WHAT: Lane Closure
WHERE: Leonard Road from FM 2818 to Palasota Drive
WHEN: Wednesday, March 15th, & Thursday, March 16th – 8 AM to 5 PM, weather permitting
Sealcoating is the process of compacting small aggregate materials into a heated oil layer placed over an existing asphalt roadway. This provides a cost-effective way to extend the life of the asphalt, enhances skid resistance, and establishes a new moisture barrier for the underlying pavement against water intrusion. This work will be completed by Fuquay, Inc. and their subcontractor, BPI, as part of the 2016 Street Maintenance plan. Portions of the following city streets will be closed intermittently to accommodate the sealcoat process:
Old Reliance Road
Area 1: Richard Street, Alice Street, Leonard Drive, and Leonard Road/Groesbeck Street
Area 2: Cottonwood Street, Bamboo Street, Pecan Street, Hazel Street, Hickory Street, Birch Street, Cedar Street, Anita Street, Rosedale Street, Mockingbird Road, Richard Street, and Rosedale Street
Area 3: Louis Street, Robeson Street, Rochester Street, Tatum Street, Carver Street, Dixie Street, West 28th Street, and Quality Park Lane
Area 4: Hicks Lane and Hardy Weedon Road
Area 5: Trant Street, Sunset Street, Briar Lane, Mockingbird Road, Lock Lane, Bryant Street, and Roberts Street
Area 6: Turkey Creek Road, Stuart Street, Cindy Lane, Sandy Lane, and Union Street
Drivers are encouraged to utilize alternate routes or allow extra travel time during the construction period. Street parking will not be permitted during construction. In addition, drivers are asked to please use caution and pay special attention when traveling through the work zone.
For additional information including a project area map and construction plans, please visit the Street and Sidewalk Projects page.