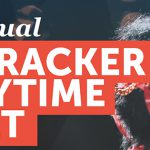 Get ready for Mounce's annual Nutcracker Storytime Ballet
When: Thursday, Dec. 5, 2019. Performances at 5:30 and 6:15 p.m.
Where: Clara B. Mounce Public Library, Second Floor Meeting Room, 201 W. 26th St., Bryan, TX
Tickets: Admission is free. Tickets are available on a first-come, first-served basis beginning at 5 p.m. at the library. Seating is limited to the first 100 people at each performance.