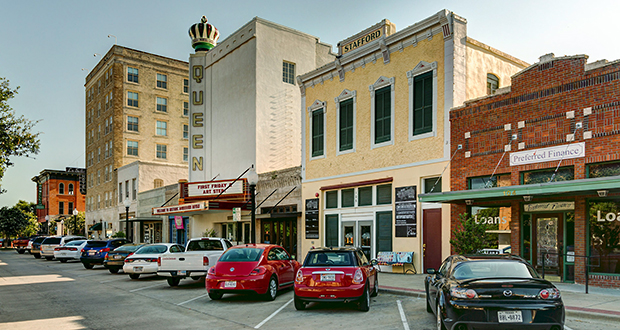 What is the Life Safety Grant Program?
In an effort to encourage private investment in redevelopment of commercial and multi-family uses downtown, the City of Bryan is offering a matching grant program for the installation of life safety improvements. Life safety improvements are construction improvements required by current fire and building codes; such as, sprinkler systems, alarm systems, fire rated walls, windows or doors, and exit signage.
When and where can I submit my application for the Life Safety Grant?
Applications for the Life Safety Grant program are now being accepted for fiscal year 2018. Applications should be submitted to the Development Services Office located in the Municipal Office Building at 300 South Texas Avenue.
Is there a deadline for applications to be submitted?
Applications are reviewed on a first come first serve basis. Once all funds for the fiscal year have been allocated, no more applications will be accepted until the following fiscal year.
Where can I find a copy of the Life Safety Grant application and grant guidelines?
Applications are also available at the Development Services Office in the Municipal Office Building at 300 South Texas Avenue, on the corner of South Texas Avenue and East 29th Street.
How can I benefit from the Life Safety Grant?
Matching grant amounts are awarded for up to 50% of the total estimated cost, up to $35,000 of each life safety improvement, on a reimbursable basis. Qualified applicants will be required to match the awarded grant funds dollar for dollar. Grants will be awarded based on the number of life safety improvements and the costs of each improvement. For example; if the property has three separate life safety improvements required prior to opening, then the property owner is eligible for three separate awards, each limited to up to 50% of the total estimated repair cost, up to $35,000. The aggregate total of grants awarded to a property may not exceed $50,000.
Is my property eligible for the Life Safety Grant?
Eligible properties include properties that are individually entered into the National Register of Historic Places maintained by the National Parks service, and also properties located along Main Street and Bryan Avenue between West Martin Luther King Street and West 29th Street. Qualifying buildings are to be used for commercial or multi-family uses; structures used exclusively for single-family residences will not qualify.
What entity determines which applicants are awarded grant funds?
Applications are first reviewed by a review panel consisting of the Chief Building Official, Fire Marshal, and an Economic Development Representative. Following the panels review, the application will be scheduled for review and final determination by the Bryan City Council. Please be aware that in an effort to assist as many applicants as possible with the limited program funds available, the City of Bryan can make no guarantee that all submitted requests will be funded.
Who can I contact for more information about the Life Safety Grant?
For more information about the program please contact Katie Williams, Staff Planner at kwilliams@bryantx.gov or call (979) 209-5030.