City of Bryan Mobile App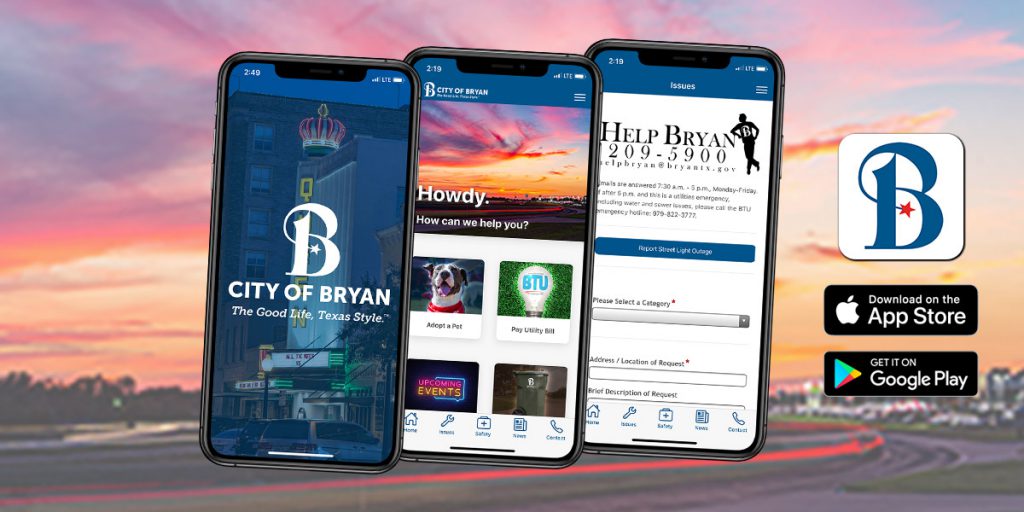 Here to Help You

The official City of Bryan mobile app is here. And it's here to help you.

Get the information you need, whenever you need it:

Stay up to date on the latest news from the city.
Report issues such as potholes, graffiti or street light outages.
Find out if you need a permit for your next home renovation.
Contact city departments with questions or concerns.

You can do it all on the City of Bryan mobile app.

One Goal: Easy

This app has one main goal: To make your life easier. And there's lots of ways it can assist you:

Finding an adoptable pet.
Helping you find your trash pickup day.
Viewing meeting agendas.
Entertaining you with our extensive list of videos.

It's like you have a personal city staff member at your service 24 hours a day, 7 days a week.
Built in Bryan
The new official City of Bryan mobile app was completely designed and developed in-house at the city, which allows us to respond to your feedback faster and make updates and improvements more often. Basically, it makes it easier for us to make the app better for you.
Send Us Your Feedback
Contact us with issues, glitches, bugs or any other type of feedback:
Please include the phrase "Mobile App Feedback" in the the subject line.
Please remember that most apps are updated periodically and some features may change slightly with new versions. Also, please expect a delay between when you send feedback and when the issue or feature would potentially be resolved, or included, into the app. App releases take more time than website updates, and it also takes time to go through the approval processes with the App Store and Google Play Store after submitting a new version of an app.
Don't Wait
Don't wait another minute. Download the City of Bryan mobile app today and see how it can help you!
iPhone® and App Store® are registered trademarks of Apple Inc.
Android™, Google Play and the Google Play logo are trademarks of Google LLC.