Bryan Animal Center
Pet health and wellness is important. That's why the Bryan Animal Center is passionate about hosting the annual Pawpaloosa event!

Come enjoy the day with your furever friends while visiting with local, community pet experts! We will have free microchipping, canine rabies vaccinations, raffle items, and more.

Pet health and wellness is important. That's why the Bryan Animal Center is passionate about hosting the annual Pawpaloosa event!

Please note: Overflow parking at #Pawpaloosa2017 is available at the Brazos County Tax Office building – it is next door to AND within walking distance of the Morris Buzz Hamilton Memorial Dog Park.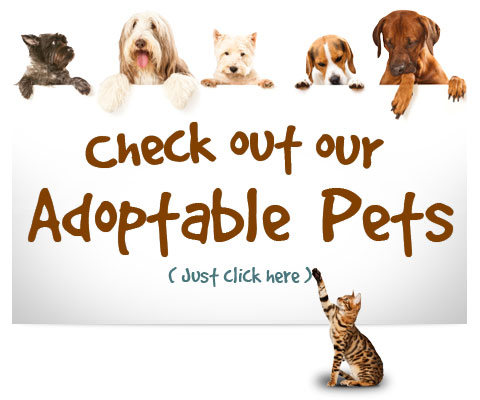 Upcoming Events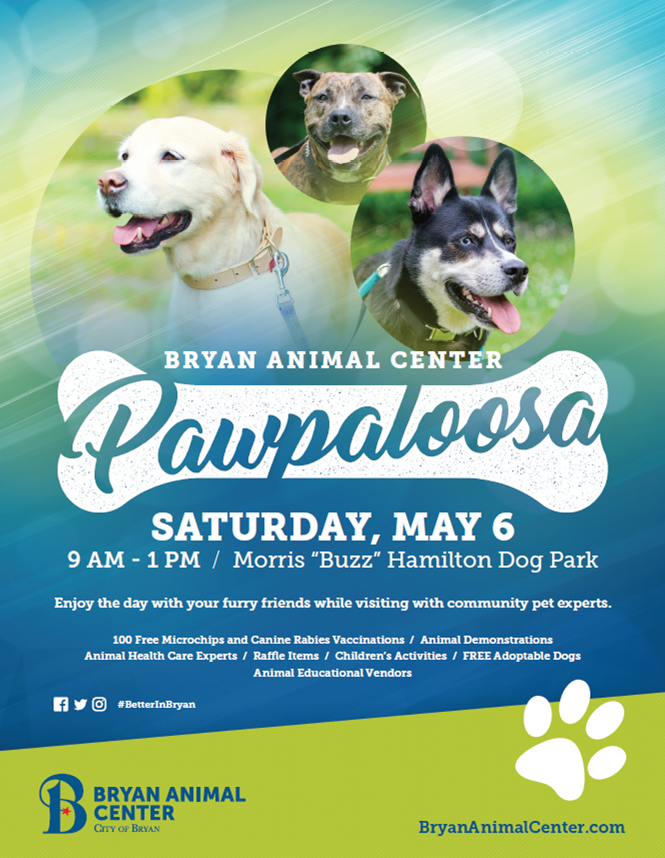 April 2017
Mon

Monday

Tue

Tuesday

Wed

Wednesday

Thu

Thursday

Fri

Friday

Sat

Saturday

Sun

Sunday

March 27, 2017

March 28, 2017

March 29, 2017

March 30, 2017

March 31, 2017

April 1, 2017

April 2, 2017

April 3, 2017

April 4, 2017

April 5, 2017

April 6, 2017

April 7, 2017

April 8, 2017

April 9, 2017

April 10, 2017

April 11, 2017

April 12, 2017

April 13, 2017

April 14, 2017

April 15, 2017

April 16, 2017

April 17, 2017

April 18, 2017

April 19, 2017

April 20, 2017

April 21, 2017

April 22, 2017

April 23, 2017

April 24, 2017

April 25, 2017

April 26, 2017

April 27, 2017

April 28, 2017

April 29, 2017

April 30, 2017
Don't Forget About Foster Saturday!
Don't forget about our fantastic fosters! Join us every Saturday from 12 p.m. to 3:45 p.m. to view a handful of our adoptable fosters at the Bryan Animal Center! We would love for you to come out and have a meet and greet with the fosters that are out here!
Fosters are wonderful to adopt because they have already been in a home! Some of them are house-trained, crate-trained, and may even know basic obedience skills! What more could you ask for?
How about a discounted adoption fee! All our fosters are considered VIP (Very Important Pets) and have discounted adoption rates! The adoption fee includes their spay/neuter, de-worming, basic vaccinations, microchip, and a heartworm/feline disease test!
Now all you have to do is come in and ADOPT! Please call 979-209-5260 if you have any further questions. We will see you this Saturday!
Please click here to sign up for Foster Saturdays. If you have any questions or need the passcode, please contact 979-209-5264 or email agarcia@bryantx.gov.
Adoption packages
Listed below are the prices and services that come with adopting our animals. Microchips may be registered nationally at time of adoption for an additional charge of $10.99 If you are claiming a lost pet or adopting an animal from the Bryan Animal Center, you may pay with cash, check, Visa, MasterCard, or Discover.
Dogs: $80
Heartworm Tested, de-wormed, receive one DHPP vaccination, one Bordetella vaccination, & are microchipped.
Puppies: $90
De-wormed, are current on DHPP vaccinations, receive one Bordetella vaccination, & are microchipped.
Cats: $50
FELV/FIV tested, de-wormed, receive FVRCP vaccination, & are microchipped.
Kittens: $60
FELV tested, de-wormed, are current on FVRCP vaccination, & are microchipped.
Lost and Found
Owners must bring proof of ownership when claiming their animal(s). (Photos, vet records, etc.)
We hold all animals for 72 hours before they are made available for adoption.
Volunteers
The Bryan Animal Center is accepting volunteers who want to assist with improving the quality of care animals receive at the Center.
Interested individuals must complete the Volunteer Waiver form, either through our online application, or by downloading the PDF below and submitting it to Center staff. Volunteers will be notified when their volunteer application has been approved.
Volunteers may assist with caring for animals, cleaning cages/kennels/kennel area, locating animal owners, general cleaning, and other needs.  Center staff will direct volunteers and provide appropriate training as required and as necessary. Volunteers are needed seven (7) days a week.  Center staff will visit with each volunteer to determine days and times best suited for the volunteer and the Center.  Volunteers serve at the pleasure of Center staff.
If you have questions or need more information, please contact the Bryan Animal Center at (979) 209-5260.
Foster Program
The Bryan Animal Center (BAC) has animals who may need homes during their transition period.  Foster homes are one way for deserving animals to receive care before being adopted.
Individuals and organizations interested in partnering with the BAC to provide foster care, should complete the Foster Care Application form and submit it to BAC staff.  Foster homes are responsible for the foster animal, including food, shelter, social skills, and a loving environment.

Animal Control
It is the policy of Bryan Animal Services to protect the citizens from nuisance and dangerous animals by maintaining an Animal Control Unit which shall be responsible for the enforcement of city ordinances, state law, and federal law governing animals.
Animal control officers are mobile responding to calls within the City limits of Bryan and are stationed out of Bryan Animal Center Animal 2207 Finfeather Bryan TX, 77801.
Animal Control officers regularly work Monday through Friday 6 a.m. to 7 p.m.
Animal control officers are on call for emergencies after regular business hours, on weekends, and city recognized holidays.
After Hours Emergency Call Responses include:
Animal bites or scratches to a human that break the skin
Vicious animal at large attacking people or other animals
Injured/ill animal when owner is not known
Snake or wild animal in a house/garage. (must have a visual on the animal)
For Animal Concerns, Please Contact (979)361-3888 For an Animal Control Officer to Respond.
Animal Related Ordinances for Bryan may be found at:
http://library.municode.com/index.aspx?clientId=14054
For more information about ordinances or general inquiries, you may leave a message at (979)209-5261, and an officer will return your call as quickly as possible.
For immediate assistance, please call (979)361-3888.
Humane Live Trap Requests
To have a humane live trap belonging to the City of Bryan Animal Services be placed on your property, you must fill out a Humane Trapping Agreement. Please fill out and submit our online form, or download and fill out the PDF version, and return it to the Bryan Animal Center.