Wastewater Treatment and Compliance
The City of Bryan is planning to build a new wastewater facility on the east side of Brazos County to support growth and development. After evaluating several sites and considering the floodplain and available utilities, the city purchased a site on Cole Lane. While the permit is for a maximum of 12 million gallons per day, the city expects to build a plant with one-third to one-half of the permit capacity as the first phase. The plant would not be operational before 2027.
The City of Bryan operates three (3) activated sludge plants to treat our community's wastewater. The city is divided into three sewer basins based on the service area for each treatment plant.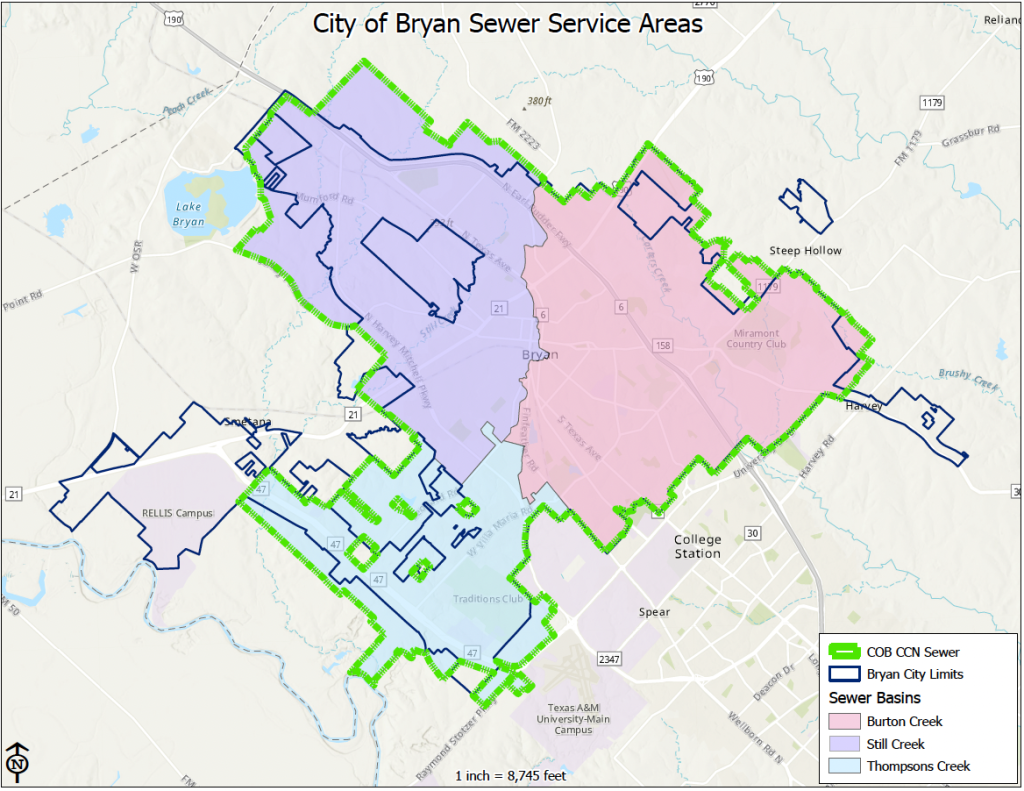 Hauled Waste Disposal
The City of Bryan's Still Creek Wastewater Treatment Plant is a receiving facility for septic, port-o-can and grease/grit trap waste in Brazos County. Permitted waste haulers may dispose of approved waste Monday through Friday, between the hours of 8 a.m. and 4 p.m. Please note that access may be denied during times of wet weather or other unforeseen circumstances. For more information regarding our location, please feel free to contact us at (979) 209-5655 or you can download this map.
Holiday Schedule
Still Creek Wastewater Treatment Plant will be closed for disposal on all of the following city recognized holidays:
New Years Day
Martin Luther King Jr. Day
Good Friday
Memorial Day
Independence Day
Labor Day
Thanksgiving Day
Day after Thanksgiving
Christmas Eve
Christmas Day
Waste Transport Permit Requirement
All liquid waste transporters utilizing the Still Creek Wastewater Treatment Plant must be permitted by the City of Bryan's Environmental Compliance Team before disposal privileges will be granted. Under this system, each vehicle used by a company to provide liquid waste hauling service (transport and disposal) within Bryan must have a permit. Disposal privileges will not be granted without proof of permit. Further information on the city's liquid waste transporter permit can be obtained by calling the Environmental Compliance Team at (979) 209-5900.
Disposal Costs for Accepted Waste
Grit: $0.21/gallon
Grease: $0.17/gallon
Septic/Port-A-Can: $0.08/gallon
Prevent the Clog
The City of Bryan maintains 440 miles of sewer lines with over 22,000 connections from residential homes within its sewer system. Wastewater from customers travels through the sanitary sewer system to the wastewater treatment plant where it is processed and returned to the environment. Fats and oils from cooking grease are major sources of stoppages within the sewer system because when poured down the drain, these items coat, congeal, and accumulate onto the sewer pipes – causing reduced flows and promoting backups.
Fats, oils, and grease are found in such things as:
Meat Fats
Food Scraps
Lard
Baking Goods
Butter
Cooking Oil
Sauces
Shortening
Dairy Products
Margarine
There are several easy steps that can be taken to promote a healthy sewer system, including but not limited to:
Disposal of table scraps in the garbage.
Use paper towels to wipe dishes, pots, and pans before washing.
Avoid the use of garbage disposals.
Freeze used cooking oils in a spill-proof container and place into your trash cart on your scheduled collection day.
Recycle used cooking oils at the Bryan "Do-It-Yourself" Used Oil Recycling Center: 1111 Waco Street, Monday – Saturday, 8am – 5pm.
By working together to "Prevent the Clog", the City of Bryan, its residents and businesses will benefit from:
Reduced plumbing costs associated with clogs and stoppages in sewer lines.
Reduction of unsightly sanitary sewer overflows attributed to fats, oils, and grease.
Lower sewer rates by prolonging the life of the sanitary sewer by minimizing the need for pipe replacement and repair.
Industrial Pre-Treatment Program
Program participation is based on an industry's categorical classification and volume of wastewater discharged. The Industrial Pretreatment Program (IPP) works to ensure that wastewater discharged from qualifying industries meets federal and state wastewater quality standards before it is discharged to the city's wastewater collection and treatment system.
All industries participating in the IPP are required to sample their wastewater and participate in regular inspections performed by city staff.
Surcharge fees are calculated based on the strength of each industry's discharge and the volume of wastewater discharged. Surcharge fees are separate from monthly water and sewer usage fees, and are used to offset operational costs assumed by the city for collection and treatment of industrial wastewater.
Surcharge Calculator
Inflow and Infiltration
Sanitary sewers are designed to carry sewage and are not sized to handle added flows from inflow and infiltration. Inflow and infiltration are terms used to describe how groundwater and rainwater enter the sanitary sewer system. These sources are known as "clear water" to distinguish it from sewage.
As a rain event begins, the sanitary sewer starts to fill with clear water as a result of inflow and infiltration. Once the sanitary sewer system has reached capacity or become overloaded, water will flow backward through the sanitary sewer, flooding households and causing manholes to pop open releasing sewage and potential pathogens into the street and environment.
The city maintains approximately 375 miles of sewer pipe. Stretched end to end, the sanitary sewer would reach from Bryan to New Orleans, Louisiana. The city has implemented proactive approaches to its management and operation of the sewer system to minimize overflow occurrences associated with inflow and infiltration. These approaches include:
Creating a prioritized preventive maintenance and sewer cleaning schedule.
Mapping service history, overflows, and assets into GIS.
Forecasting future repairs and system improvements.
Implementing a scheduled inspection and condition assessment for sewer pipe.
Reaching out to homeowners and businesses through public education.
The city performs routine inspections of the sewer system to identify defects in its system and sewer pipes from private homes and businesses. Typical defects in sewer piping such as cracks, leaking joints, collapsed lines and/or missing cleanout caps, serve as points of entrance for inflow and infiltration.
Property owners will be asked to repair defects identified as a result of sewer inspections. The city's Sewer Lateral Grant Program and Sewer Lateral Assessment Program are simple and convenient ways for Bryan homeowners to offset the cost of repairing or replacing defects in their home's sewer piping.
Contact us to learn more about these programs or actions you can take to prevent inflow and infiltration.
Backflow Prevention Program
Backflow means the flow in the direction opposite to the normal flow or the introduction of any foreign liquids, gases, or substances into the water distribution system. Backflow can occur under any set of hydraulic conditions where the system is not protected by an approved backflow assembly.
Backflow assemblies must be tested when installed or repaired, and may be required to perform annual testing depending on its hazard classification. Property owners are required to submit testing reports to the city each time a backflow assembly is tested.
Backflow assembly testers must be permitted by the City of Bryan to perform testing on any backflow assembly located in Bryan.
Please contact a member of the Environmental Compliance Team at (979) 209-5900 or Email Public Works if you have questions or complaints regarding cross-connections or backflow prevention devices.