Fire Protection Systems, Permits, and Inspections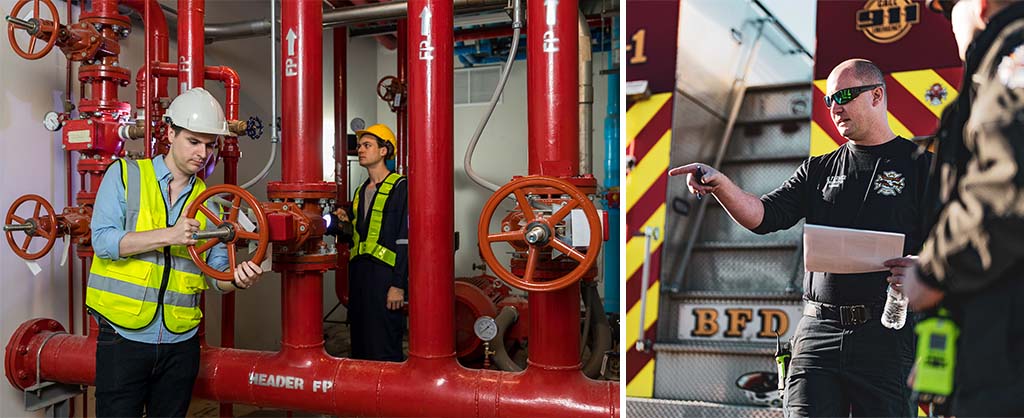 Fire Protection Systems: What You Need to Know
If you are considering installing a fire alarm, fire sprinkler, standpipe, hood or other alternative systems, or underground fire lines, here is what you need to know. If you have any questions about this process, please call the Fire Marshal's Office at (979) 209-5960 and select option "No. 1."
Fire Protection System Permit Application
This form is to be completed when submitting plans for fire alarm, fire sprinkler, standpipe, underground fire lines, commercial hood or other alternative fire protection system. The form should be submitted with full resolution digital plans. Upload links are available for large files. Please allow 14 days for review. If you are not able to upload digital plans please contact our office at 979-209-5960
Fees and Inspection
The Bryan Fire Department does not have a Plan Review Fee at this time, but there are testing fees that will be applied for each inspection. Please provide a request to the Fire Marshal's Office at least one day before a test is needed so that we can make sure it is scheduled. If we find that the system is not ready or it fails the inspection after it is scheduled a separate inspection fee will be charged. Also a statement signed by the license holder stating that the system meets the required standard will be required.
Inspections

Helpful Links
Fire Code Plan Requirements
The City of Bryan has adopted the 2021 International Fire Code. These codes provide reference to NFPA documents for plan submittal, installation, and maintenance of fire protection equipment, but they also have requirements that must be met. Please verify that your installation will also meet the adopted code before submission of plans. Below is a short listing of plan requirements that come from the NFPA standards. Please be sure to provide these at a minimum. An approved set of plans must be at the job site.
Alarm System
The plans shall include a floor plan with usage of all rooms, initiating devices, notification devices with ratings, panel, annunciator panels, transponders, power supplies, power connection, battery and voltage calculations, conductor size, cut sheets, details of ceiling height and construction, interface of any fire safety controls, and classification of supervising station.
Sprinkler and Standpipe System
The plans shall include: Name of owner and occupant and contractor, Street address, Compass point, Full height cross section, Elevation drawings, Location of; partitions, fire walls, concealed spaces, small spaces not protected, riser nipples, hangars, pipes, heads, drains, valves, check valves, test connections, initiating devices, FDCs, PRVs, hydrants, public and private mains and any controlling valves, other water sources, riser access rooms, hose outlets, monitors, joints, welds; Standard of installation, Sprinkler head data, Identify dead end main distances, Total area protected on each floor, Number of heads on each riser per floor, Setting on each PRV, Data on valves and piping schedule, Flushing provisions, Nameplate data, Detail on antifreeze systems, Scale of plan on sheets of uniform size, Hydraulic reference points, Calculations of loads for sway bracing, Design criteria for system, and any other data that may be needed for review.
Hood System
The plans should show the kitchen layout with the type of equipment to be protected. Cut sheets of the appliances shall be provided to verify installations. A diagram of the hood system showing the location and type of nozzles, links, bottle, gas valve, panels, and manual pull stations shall be provided. All gas and electrical systems including the lights under the hood shall shut down on activation of the system except for the exhaust air. A statement that the installation conforms to the standard and manufacturer's instructions shall be provided. The hood suppression system shall be connected to a fire alarm if one is located on site and will be required to activate the alarm during the test. A test cylinder is required to be used for the test.
Mobile Food Vendor Hood System Requirements
In addition to the plan requirements for Hood Systems, Mobile Food Vendors need to provide a vehicle layout. If LP gas will be used, include the location, size, mounting method, materials used for distribution piping and mounting propane storage/distribution. Electrical wiring diagram to include panel location/specs, outlet locations and power supply components (Generator/Shorelines). Locations of portable fire extinguisher locations and LP gas alarm. **Special Note** MFV hoods are not required to be connected to a fire alarm as noted under the Hood Systems section.
Testing of Systems
IFC 2021 Section 901.5 Installation acceptance testing: Fire detection and alarm systems, fire-extinguishing systems, fire hydrant systems, fire standpipe systems, fire pump systems, private fire service mains and all other fire protection systems and appurtenances thereto shall be subject to acceptance tests as contained in the installation standards and as approved by the fire code official. The fire code official shall be notified before any required acceptance testing.
IFC 2021 Section 901.5.1 Occupancy: It shall be unlawful to occupy any portion of a building or structure until the required fire detection, alarm, and suppression systems have been tested and approved.
Underground Storage Tanks
Underground storage tanks will be installed or removed in accordance with 2021 ICC Codes, city ordinances, and TCEQ Guidelines.
Burn Permits / Recreational Fires / Cooking Fires
Outside Fire Guidelines per City of Bryan Ordinance Chapter 42 and IFC 2021 Chapter 3

Recreational fires may not contain electrical insulation, treated lumber, plastics, construction or demolition materials not made of wood, heavy oils, asphaltic materials, potentially explosive materials, chemical wastes, or items containing natural or synthetic rubber
All recreational and portable outdoor fireplaces shall be constantly attended until the fire is extinguished.
A minimum of one 4-A portable fire extinguisher OR other approved on-site extinguishing equipment, such as dirt, sand, water barrel, garden hose or water truck shall be available for immediate use.

International Fire Code 2021 Section 308.1.4 Open-flame cooking devices

Charcoal burners and other open-flame cooking devices shall not be operated on combustible balconies or within 10 feet of combustible construction. Exceptions:

One- and two-family dwellings.
Where buildings, balconies and decks are protected by an automatic sprinkler system.
LP-gas cooking devices having LP-gas container with a water capacity not greater than 2 1/2 pounds [nominal 1 pound (0.454 kg) LPgas capacity].

If you are not sure if your balcony is combustible or non-combustible materials please consult your property management.
Burn Permits
Any fire within the Bryan City Limit that does not qualify as a Recreational Fire, Portable Outdoor Fireplace, or Open-flame Cooking Device will require a burn permit.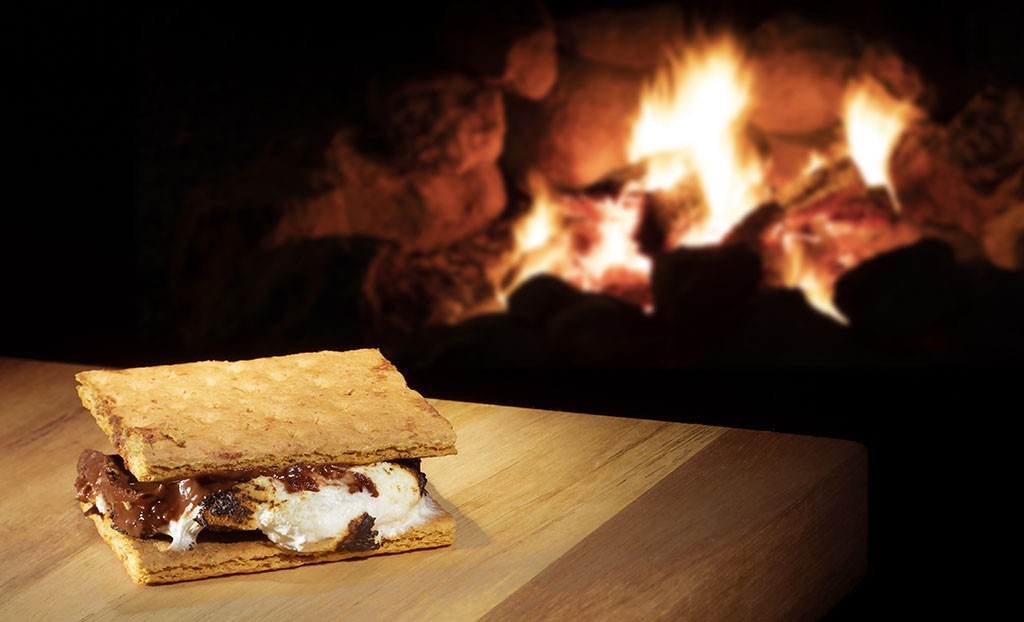 Recreational Fires
Outdoor fires where the fuel being burned is not contained in an approved container AND has a total fuel area of 3 feet or less in diameter and 2 feet or less in height for pleasure, religious, ceremonial, cooking, warmth or similar purposes.
Shall not be conducted within 25ft of a structure or combustible material.
Conditions that could cause a fire to spread within 25ft of a structure shall be eliminated prior to ignition.
Recreational Fires are prohibited when a "Burn Ban" is in effect
Portable Outdoor Fireplaces
Solid-fuel-burning fireplace that may be constructed of steel, concrete, clay or other noncombustible material. A portable outdoor fireplace may be open in design, or may be equipped with a small hearth opening and a short chimney opening in the top.
Shall not operated within 15 ft. of a structure OR combustible material.
Portable Outdoor Fireplaces are prohibited when a "Burn Ban" is in effect.
Open-flame Cooking Devices
As of Jan. 1, 2022 The City of Bryan has adopted the 2021 International Fire Code (IFC). This change allows for some conditional use of open flame cooking devices as it relates to multi-family complexes. As a general rule we discourage the use of grills on balconies and advocate for community grills or locating grills at least 10 feet away from any combustible object. It is very important for property management and tenants to understand what is allowed under the new code and what is not. Violation of this code carries a fine up to $2,000.