Midtown
Midtown Zoning: Proposed Standards

Please note: This is a summary of the proposed changes. For full details, please review these proposed ordinance documents.

Proposed Midtown – Corridor District (MT-C)

The City of Bryan is proposing to rezone the South College – Business District (SC-B) and South College Residential – District (SC-R) into the Midtown – Corridor District (MT-C) (shown in blue) in order to rebrand a changing area. This is more than just a name change though. This includes changes to the proposed standards and permitted land uses. The intent is to create more a walkable area of high-quality developments.

Proposed Midtown – High Density District (MT-HD)

The City of Bryan is also proposing a new high-density zoning district in the North of Northgate area to be called Midtown – High Density District (MT-HD) (shown in red). The specific locations of this proposed District are based on feedback from the community.

Changes to Land Use

Mixed-use developments and high-density residential permitted.
Office, retail, and restaurants permitted.
While previously omitted, detached residential homes are being considered for inclusion in neighborhood areas of the MT-C District. The only limitation would be lots adjacent to the South College Avenue Corridor. (Townhomes still permitted except along corridor as well.)
Auto-oriented retail sales and gas station no longer permitted.

Mixed-use developments and high-density residential permitted.
Office, retail, and restaurants permitted.
Low-density residential homes (i.e. townhomes, or single-family homes) would not be permitted.
Auto-oriented retail sales and gas station no longer permitted.

Building Setbacks

S. College Ave. and S. Main St.:

Front Setback Range: 75% of the front building façade must fall between 5-20 feet from property line.
Side: No minimum unless on corner

All other streets:

Front Setback Range: 30% of the front building façade must fall between 10-30 feet from property line.
Side: Five (5) feet unless on corner

No minimum setback requirement (Similar to Downtown Bryan.)
Separation requirements guided by building code and fire code requirements.

Building Height

College Ave. and S. Main St.:

Maximum of six (6) stories or 70 feet

All other streets:

Maximum of three (3) stories or 35 feet

No maximum building height.
Floor Area Ratio (FAR) of 150% used to require larger developments. (I.e. if the lot is 10,000 square feet, then at least 15,000 square feet of building must be constructed. Multiple stories may be used to reach this number.)

Buildable Area

Maximum buildable area is 90% of lot area

No maximum buildable area.

Building Design Guidelines

Pedestrian oriented buildings
Architectural design standards and guidelines
Images and examples to help clarify requirements

Parking

General:

Parking options for alternative modes of transportation being considered for credit.
Public on-street parking, built next to the two-way passing lanes, are permitted in certain areas and situations. (This helps keep the roadway open and uncongested, when compared to allowing parking in the existing street.)

Residential:

One (1) parking space per bedroom

Non-residential (office, retail, restaurant, etc.):

One (1) parking space per each 350 square feet of floor area.
Frequently Asked Questions
What is Floor Area Ratio (FAR)?
Floor Area Ratio is the measurement of a building's floor area in relation to the size of the lot/parcel on which the building is located. This is a city planning tool that is used to encourage density in a flexible manner. This is only proposed to be used in the Midtown – High Density District (MT-HD).
The table below shows how many square feet of building would be required based on the lot size. The larger the lot, the larger the building must be. Multiple stories will have to be used to accomplish this.
| Lot Size (sq. ft.) | Floor Area Ratio (FAR) | Required Building Area (sq. ft.) |
| --- | --- | --- |
| 10,000 (0.23 acre) | 150% | 15,000 |
| 43,560 (1 acre) | 150% | 65,340 |
In this image, you can see how flexible the Floor Area Ratio (FAR) is for developers. If they would like to fill their lot with the required amount of building they need, then they can. If they want to use some of the lot for parking, green space or plazas, then they will need to build a taller building.
What is a Setback Range?
A setback range is an area where the front façade of a building must fall. There is some flexibility to allow portions of the building further back in the lot depending on location.
A: Setback range: The structure must meet the setback range requirements for the zoning district in which it is located.
B: Only a portion of the building frontage must fall within this setback range. This varies based on zoning district.
How Will This Impact Me?
New zoning regulations and development standards will only come into play if you make a change on your property. If you keep operating a legal business as is, you will be allowed to continue as long as you like.
Please note, if you have to get a permit of any kind, make site changes, change out your business tenant, or buy a new property, then these new regulations will most likely apply to you.
Midtown Area Plan
The City of Bryan's Midtown Area Plan was adopted by the Bryan City Council on May 12, 2020.
Explaining the plan

Coordinated Corridor Development

This plan recommends two broad strategies to coordinate development in Midtown.

The first is investment in the South College Avenue corridor itself. The plan calls for coordinated public and private investment at five "catalytic" sites to build upon the success of the renovations to College Main Street and South College Avenue. These catalytic projects work to stitch the entire length of the corridor together and to stimulate and support new development within Midtown.

The second of the broad strategies is an incremental approach to infill development of the adjacent streets and properties. Midtown is already subject to substantial housing demand from students. As it turns out, young professionals and people over 65 are also moving into Midtown.

When existing demand is bolstered by planned public investments like the Travis Bryan Midtown Park and the catalytic projects, the city will need a more efficient and accessible development process than it has today. The plan details a novel technique — pattern zoning — that creates an opt-in expedited permitting program that uses new site design guidelines, licensed architecture and pre-approved plans.

This plan also recommends several changes to current codes and processes. Other recommended changes include new rules allowing cottage courtyards on large lots, accessory dwelling units in backyards and modest text amendments to existing policies and procedures.
What's in the plan?
Chapter 1: Executive Summary
This is a stand-alone document that summarizes the plan as a whole and depicts the Midtown area within Bryan. It also introduces the broad strategies of the Midtown Area Plan and explains the motivations that triggered the plan to be created in the first place.
Chapter 2: Midtown Corridor
The Midtown Plan gives recommendations for each of five "Experience Districts." These districts simply help to give a name to the different areas within the broader Midtown area. Within these Experience Districts are recommendations for how development could occur moving forward as well as voluntary design options for catalytic projects within the areas. There are also public infrastructure recommendations for how the city could redevelop certain roads and sidewalks.
Chapter 3: Market Opportunity Study
At the beginning of this 18-month process, a study was done of the market opportunities within Bryan. The study found that the Midtown area, as well as Bryan as a whole, are on the verge of experiencing significant regional growth as people move into the community. This study informs many of the implementation decisions and directions seen throughout the plan.
Chapter 4: Pattern Book
This book will also be a stand-alone document that acts like a menu for new pre-approved development patterns for the Midtown area. While these have not yet been formally approved, the patterns will only be allowed in specific areas and will be required to be developed with specific site conditions.
Chapter 5: Implementation Workplan
The implementation chapter describes the three specific strategies that can be used to accomplish the recommendations of this plan. This includes near-term and long-term action items with key priority items highlighted. This will be the guidebook that leads to potential changes within the Midtown area. Some of these changes could include:
A new Midtown Zoning District to allow more flexibility for development along South College Avenue and College Main.
A recommendation to allow accessory dwelling units to be used as an income property.
A new ordinance to allow food truck courts in specific situations with key development regulations.
Share With Us on Social

Social Media Hashtag  :  #BryanMidtown | Join the conversation by using #BryanMidtown across social media to share your vision.
Guiding Principles, "Experience Districts," and Goals for Each Area of Midtown
Midtown Planning Area Definitions
Experience Districts: A focused planning area which incorporates physical, cultural and social realms to align and advance a desired way of living, working and playing while clearly distinguishing the unique personality of an area.
Influence Area: While not in the core planning area, these areas will need additional attention as they have influence on and are influenced by the adjacent experience district.
Aligning Principles: An organizing structure that helps align and prioritize multiple strategies within generally approved guidelines.
General Aligning Principles: Midtown Planning Area
A dynamic and aesthetically pleasing South College Avenue Corridor: One that links a revitalized downtown Bryan to a dynamic Midtown and acts as the economic engine for the surrounding neighborhoods.
Complete, connected and safe neighborhoods: Areas with convenient access to the goods, services and a wide variety of housing that meets the needs of all ages and abilities. This includes sidewalks and trails, as well as street improvements that enhance the aesthetics and experience of Midtown.
Future neighborhood infill development: Development that is context appropriate, compatible with existing adjacent structures and addresses needs of projected future demand. This approach takes into consideration the concerns of current residents while continuing to open investment opportunities in Midtown.
Opportunities to reuse existing structures whenever feasible: A mix of appropriate new development and upgraded current buildings offer a resilient economic approach to the district while cultivating the authenticity of a visually unique area of Bryan.
Alignment of the cultural, social, legal, financial and institutional structures: Alignments that lead municipal strategies and foster appropriate development to ensure all actions maximize a positive impact.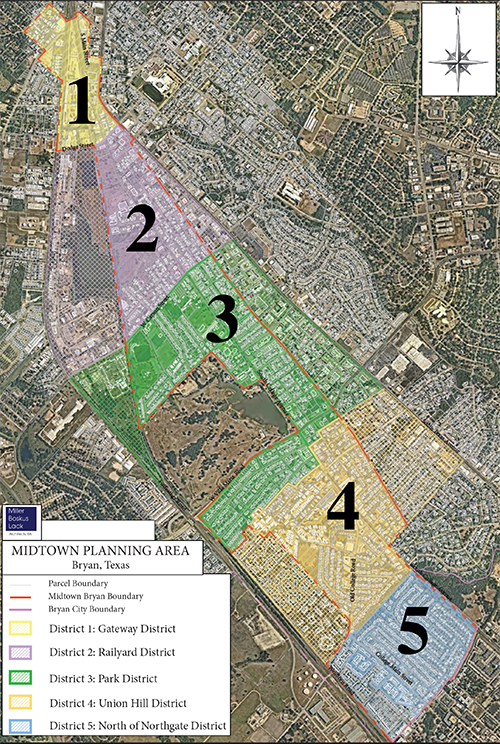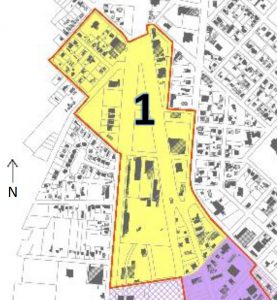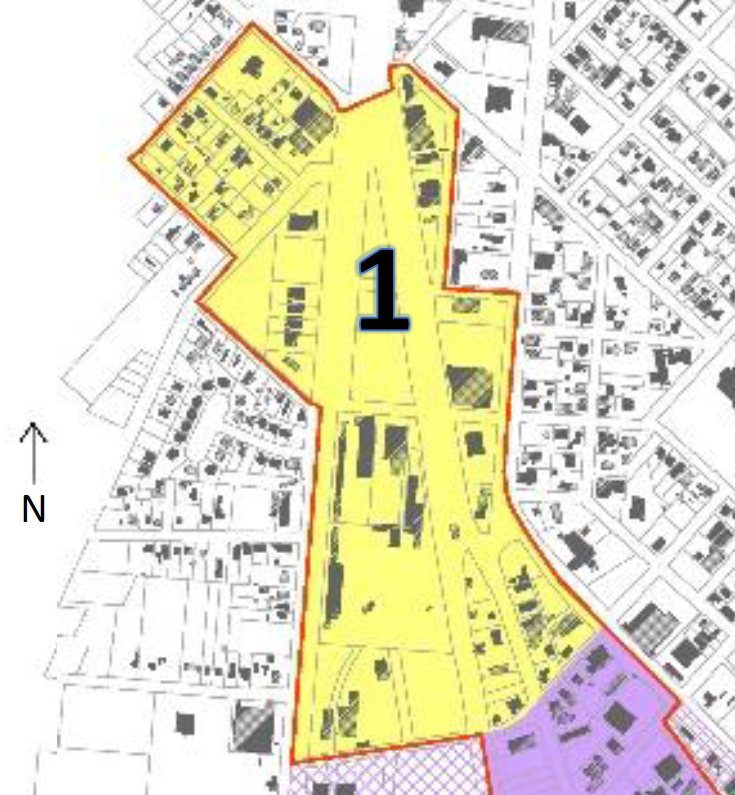 District 1: Gateway District
This district is a mix of the existing Downtown and the emerging Midtown experiences and acts as a transition between the two areas.
Enhanced Aesthetics: Coordinate design and implementation of streetscape and gateways along South College
Repurpose and Densify: Prioritize development on repurposing light-industrial and warehouse space to be used to attract artists, makers, etc., encourage mixed-use and multi-family residential and recruit adjacent neighborhood-oriented services and clustered food/hospitality concepts
Art & Culture Focus: Develop public art corridor and look to recruit arts organizations to the area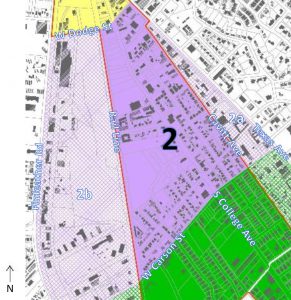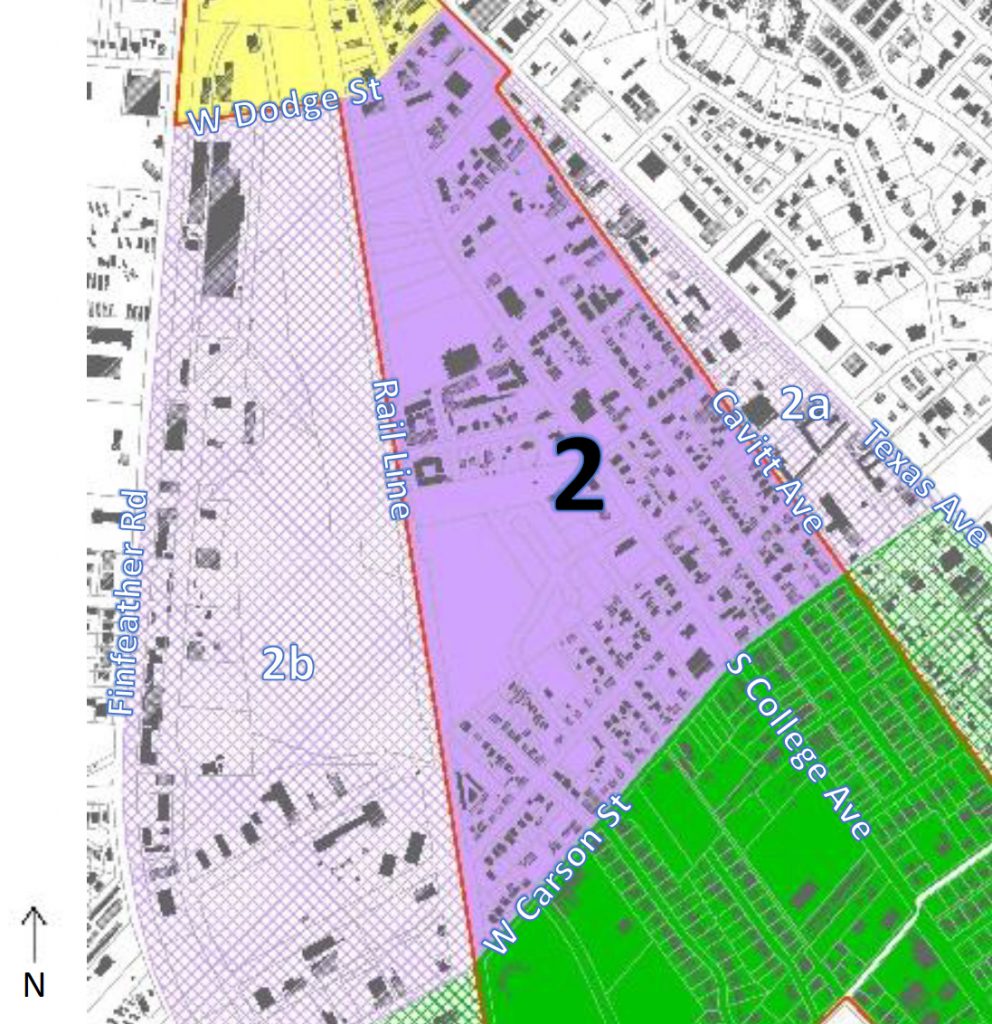 District 2: Railyard District
The district experience is driven by a walkable neighborhood feel that looks to the adjacent baseball park and north park edge as major assets.
Dynamic Neighborhoods: Promote residential development and neighborhood repair efforts to include a dynamic mix of single family, duplex and small apartment houses appropriate to enhance the current neighborhood fabric
Play Ball I: Strengthen connection between the surrounding neighborhood and the Bombers baseball stadium in the North Park Area
Influence Area 2a: Focus on mixed-use and small format multi-family residential
Influence Area 2b: Use well designed green space and repurposing of existing buildings to buffer the adjacent neighborhoods against the visual nuisances associated with the industrial zone along Finfeather Road.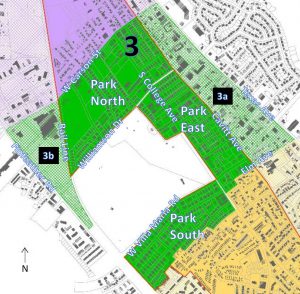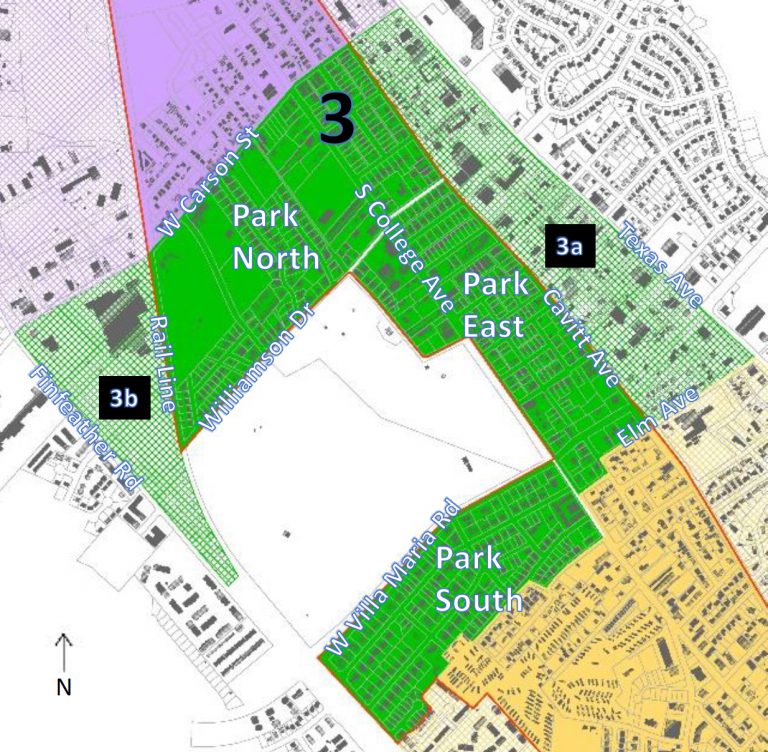 District 3: Park District
This district is strongly influenced by the proximity to Bryan Regional Park and therefore has three distinct sub-districts to address the unique challenges and opportunities within this pivotal area.
Eyes on the Park: Prioritize park-facing development to create a dynamic and active park edge
Enhance Accessibility: Enhance accessibility to park and surrounding neighborhoods through walking and biking to minimize local vehicular traffic , as well as design additional crosswalks, bike-protected lanes, wider sidewalks, on-street parking and other street calming tools
Cultivate Hubs: Recruit mix of local, regional and national destination food and hospitality concepts, and create appropriate hubs to service park and surrounding neighborhoods
Coordinated Development: Minimize large, single use parking lots and partner with private development to align parking needs, facilitate public/private agreements to share infrastructure costs on new development and create regulations that remove barriers for quality redevelopment
District 3: Park Sub-Districts
PARK NORTH
Cultivate Residential Vibe: Prioritize additional small lot homes and compatible attached housing types to densify streets adjacent to the northern park edge and surrounding neighborhoods
Play Ball II: Reinforce connection to the Bomber baseball stadium with focus on recruiting neighborhood-oriented services with small format and food/hospitality concepts clustered near the field
PARK SOUTH
Enhance Neighborhood Fabric: Continue to address the development of stealth dorms within the neighborhood, including on-site parking and lot maintenance, through code revisions that also provide opportunities for compatible small lot single family and attached-family residential where appropriate
Intentional Development: Allow development of park-facing parcels along Villa Maria near intersection of South College for well-designed mix of hospitality and services, along with detached residential and attached small format multi-family
PARK EAST
Foster Commercial Corridor: Provide an integrated shopping, dining, office and multi-family living options along South College corridor
Improve Streetscape: Street improvements on South College should balance pedestrian, bike, and automotive traffic to create more connectivity between park and surrounding neighborhoods
Influence Area 3a: Future development should provide transition between the Park East sub-district with focus on densified commercial and multi-family between South College and Texas Avenue.
Influence Area 3b: Development should follow Park District General Aligning Principles to enhance adjacent park, help aesthetics of Finfeather Road and minimize visual impact of rail line and adjacent industrial area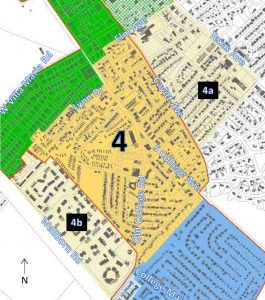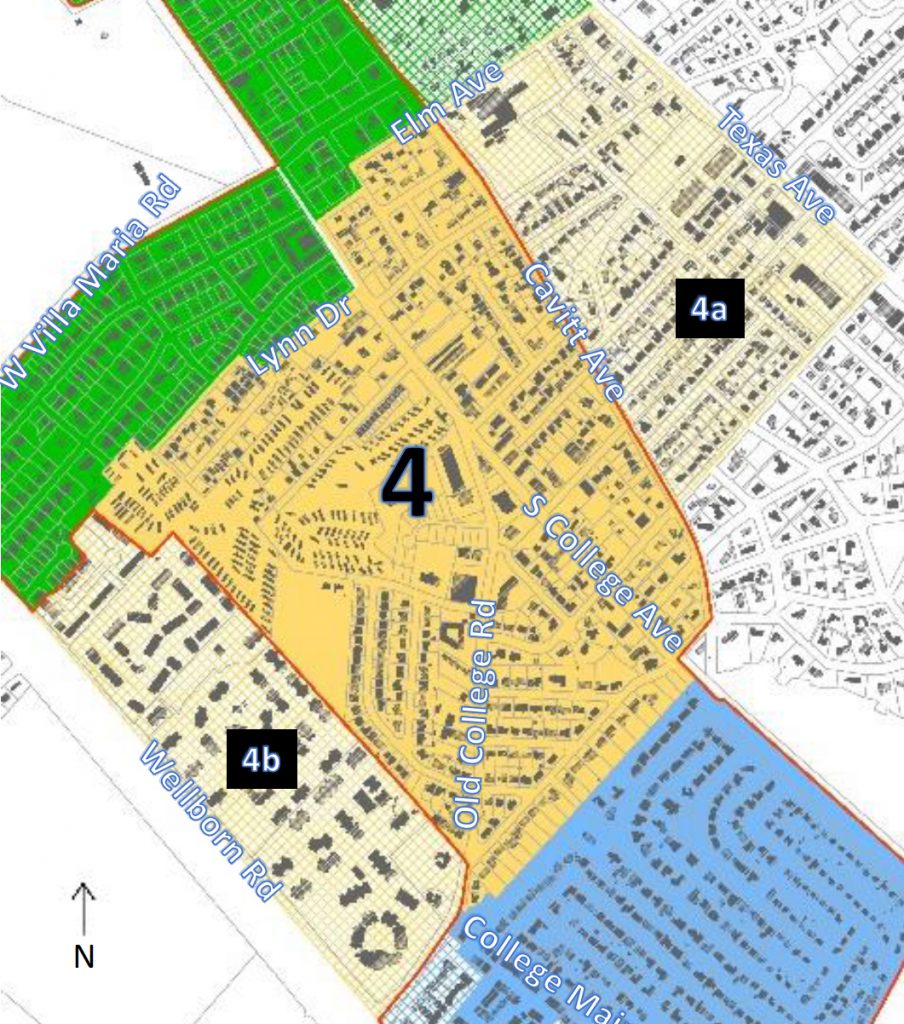 District 4: Union Hill
The Union Hill District experience is oriented towards unique culinary, entertainment and service options that provide value to the surrounding neighborhoods, attracts customers from around the region and provides tourism brand building experiences.
Cultivate Unique Culinary Scene: Focus on enhancing traditional food drivers (Farm Patch, Chicken Oil, J Cody's, etc.) and create a clustered development plan to enhance this experience with new options, including microbreweries, coffee roasters, cideries, etc.
Connect to Surrounding Neighborhoods: Enhance the walkability and connectivity for local access and develop new transportation options that connect this area to both Downtown and College Station
Align Parking Needs: Maximize parking lot investments through managed on-street and shared parking plans
Focus Development: Recruit additional business mix of restaurants, supportive retail, and entertainment clusters along South College Avenue and Old College Road. Focus multi-family housing along the South College Avenue corridor and guard neighborhoods just off South College Avenue corridor from context-inappropriate development
Influence Area 4a: Redirect medium density housing and large multi-family projects to more appropriate areas identified throughout the Midtown Planning District
Influence Area 4b: Strengthen easy walking/ biking connection to Union Hill by orienting auto oriented ingress/egress of multi-family projects from Wellborn Rd and pedestrian focused access facing Union Hill District.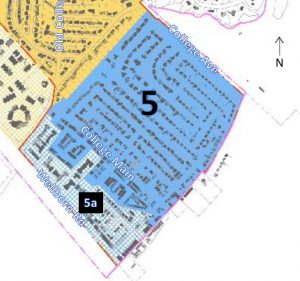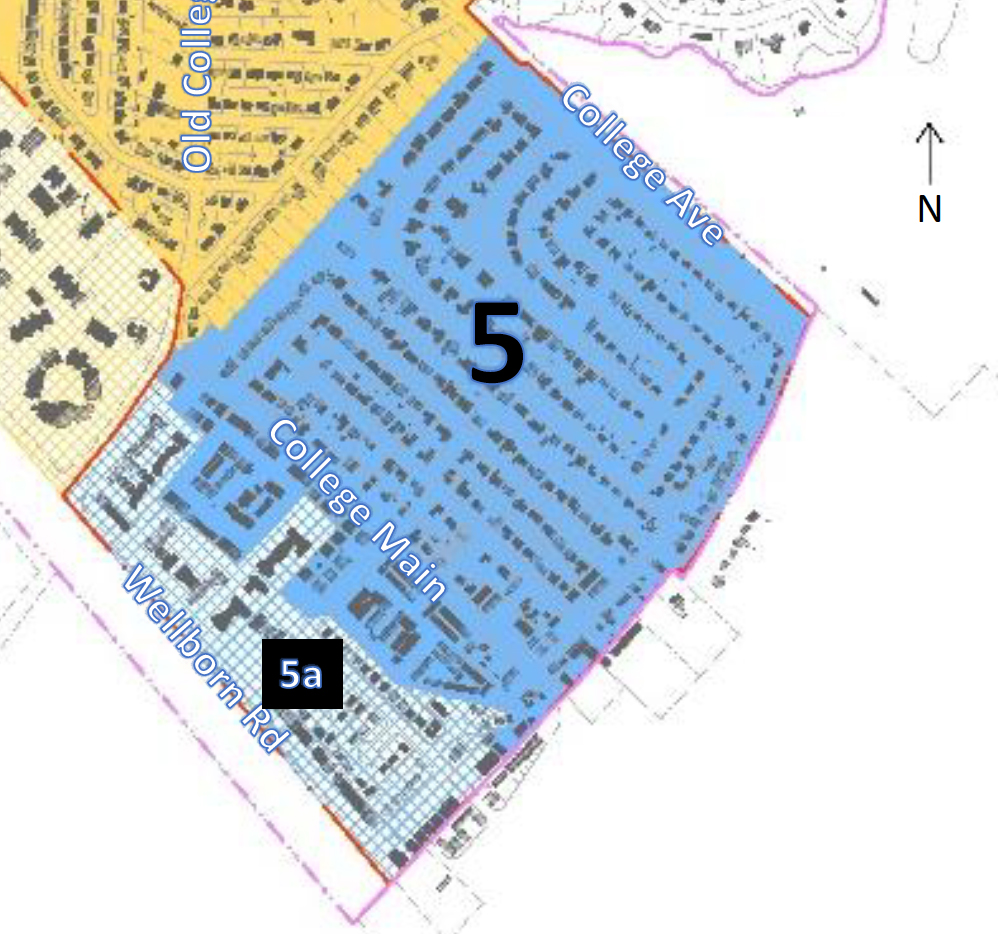 District 5: North of Northgate
As the gateway between College Station and Bryan, this district should be driven by an enhanced residential experience that takes advantage of the proximity to the services and amenities of both Union Hill District and College Station.
Incorporate Student Experience: Address on-street and off-street parking from multi-family housing and develop effective standards and design conditions for student-oriented housing
Cultivate Strong Neighborhoods: Focus new development on maintaining a complete neighborhood fabric that may include small format retail, corner stores, paired housing, attached single family, and small apartment houses
Concentrate Development: Higher density office/commercial and larger multi-family projects should focus on direct adjacency along South College Avenue Corridor and College Main Street
Influence Area 5a: Multi-family housing should remain a primary focus that reinforces a more pedestrian experience along College Main and auto oriented ingress/egress off Wellborn Rd.
Glossary
Here are some definitions of terms that may frequently be seen on this page.
Midtown Area: Approximately two square miles between Texas Avenue and Finfeather Road, south of Downtown Bryan, to the southern city limits.
Zoning: Rules for what types of uses are r are not allowed on a property. Includes residential, commercial, and much more.
Base Zoning District: The underlying rules that say what uses can or cannot be used or developed on a property.
Overlay Zoning District: A type of district that is added in additional to the base zoning district. The Midtown overlay districts do NOT take away uses, they only add voluntary optional uses.
Pattern Buildings: Pre-approved building types that the City of Bryan can give to citizens to build.
Supplemental Criteria: Development standards relating to parking, landscaping, and building location that must be met before a pattern building can be constructed.
Accessory Dwelling Unit (ADU): An additional, smaller home, located to the rear of the main house on a property.
Questions? Contact Us
Planning and Development Services
City of Bryan, Texas
Phone: 979-209-5030
planning@bryantx.gov