Midtown Area Plan
Midtown Area Plan Adopted by Bryan City Council
On May 12, 2020, the Bryan City Council voted to adopt the Midtown Area Plan as an ordinance. This adopts the implementation recommendations for Midtown which will guide the next steps for growth and development in the area.
These next steps are described in much more detail on our Proposed Zoning Updates in Midtown page. We would like the public to review the proposed plans, in detail, prior to adoption which is anticipated for later this year.
It's Here: Midtown Area Plan released

After more than a year's worth of work, study, community outreach, feedback sessions and problem solving, the City of Bryan is pleased to present the Midtown Area Plan.

Key upcoming dates

Feb. 17, 2020: Midtown Area Plan released
March 17, 2020: Bryan City Council Workshop (presentation by staff; no action taken)
March 23, 2020: **Canceled** Public meeting on the plan: Crockett Elementary
April 2, 2020: Bryan Planning and Zoning Commission (presentation by staff; recommendation to City Council)
May 12, 2020: Bryan City Council Regular Meeting (action taken by the council)

Dates are subject to change.

How did we get here, and where are we going?

The City of Bryan embarked on a proactive planning process to tackle the challenges and unlock the opportunities in the Midtown area. The plan will be the principle guide in promoting orderly growth, development and redevelopment of the Midtown area.
Thank You
The City of Bryan is incredibly grateful to all of the participation we have received during the Midtown Plan process. The citizen involvement has been phenomenal. For those who have been involved, we hope you will see that this plan is derived from your goals and considerations for the Midtown area. We know growth and change can be hard, but we thank you all for the guiding hand you provided throughout this journey.
Explaining the plan

Coordinated Corridor Development

This plan recommends two broad strategies to coordinate development in Midtown.

The first is investment in the South College Avenue corridor itself. The plan calls for coordinated public and private investment at five "catalytic" sites to build upon the success of the renovations to College Main Street and South College Avenue. These catalytic projects work to stitch the entire length of the corridor together and to stimulate and support new development within Midtown.

The second of the broad strategies is an incremental approach to infill development of the adjacent streets and properties. Midtown is already subject to substantial housing demand from students. As it turns out, young professionals and people over 65 are also moving into Midtown.

When existing demand is bolstered by planned public investments like the Travis Bryan Midtown Park and the catalytic projects, the city will need a more efficient and accessible development process than it has today. The plan details a novel technique — pattern zoning — that creates an opt-in expedited permitting program that uses new site design guidelines, licensed architecture and pre-approved plans.

This plan also recommends several changes to current codes and processes. Other recommended changes include new rules allowing cottage courtyards on large lots, accessory dwelling units in backyards and modest text amendments to existing policies and procedures.

How this affects you

Right now, nothing is changing. Any new zoning regulations still have to go through another public meeting, and then through the legal review and approval processes which will take a few months.

Our focus has been on keeping things as voluntary as possible. All aspects of the Midtown Plan are voluntary or won't be triggered until you develop/redevelop. This is particularly true for existing legal uses on your personal property. (Illegal non-conforming uses and structures built without permits don't count here.)

So even if a zoning change occurs you can continue using your property as is, if you chose. If you decide to redevelop your property with something new, then we would be able to explain the new rules, if and when they are adopted.
What's in the plan?
Chapter 1: Executive Summary
This is a stand-alone document that summarizes the plan as a whole and depicts the Midtown area within Bryan. It also introduces the broad strategies of the Midtown Area Plan and explains the motivations that triggered the plan to be created in the first place.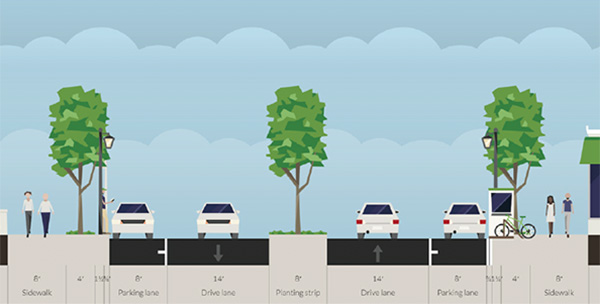 Rendering of possible traffic options for streets in Midtown.
Chapter 2: Midtown Corridor
The Midtown Plan gives recommendations for each of five "Experience Districts." These districts simply help to give a name to the different areas within the broader Midtown area. Within these Experience Districts are recommendations for how development could occur moving forward as well as voluntary design options for catalytic projects within the areas. There are also public infrastructure recommendations for how the city could redevelop certain roads and sidewalks.
Chapter 3: Market Opportunity Study
At the beginning of this 18-month process, a study was done of the market opportunities within Bryan. The study found that the Midtown area, as well as Bryan as a whole, are on the verge of experiencing significant regional growth as people move into the community. This study informs many of the implementation decisions and directions seen throughout the plan.
Chapter 4: Pattern Book
This book will also be a stand-alone document that acts like a menu for new pre-approved development patterns for the Midtown area. While these have not yet been formally approved, the patterns will only be allowed in specific areas and will be required to be developed with specific site conditions.
Chapter 5: Implementation Workplan
The implementation chapter describes the three specific strategies that can be used to accomplish the recommendations of this plan. This includes near-term and long-term action items with key priority items highlighted. This will be the guidebook that leads to potential changes within the Midtown area. Some of these changes could include:
A new Midtown Zoning District to allow more flexibility for development along South College Avenue and College Main.
A recommendation to allow accessory dwelling units to be used as an income property.
A new ordinance to allow food truck courts in specific situations with key development regulations.

Project Background
Rich in history, the arts, education, and commerce, Bryan's undeniable potential is showcased with the opportunity for master planned development and redevelopment of Midtown. Boundaries include South Texas Avenue and Finfeather Road from the Bryan/College Station City limit line to the revitalized historic Downtown, a Texas Cultural District. The Midtown area is a premiere landscape for significant sustainable development that can accommodate growing demand for quality housing, commercial services, restaurants and entertainment offerings while enhancing the existing neighborhood fabric along this important corridor.
The City of Bryan has embarked on a proactive planning process to tackle the challenges and unlock the opportunities in the Midtown area. The plan will be the principle guide in promoting orderly growth, development and redevelopment of the Midtown Bryan area, with recommendations to include changes to standard zoning districts and recommendations for the creation of new districts to help maximize (re-) development potential, with the main goal of helping strengthen the future of the corridor as a contributor to the great quality of life Bryan, Texas is known for providing to citizens and visitors alike.
The study area includes approximately two-square miles surrounding the Travis B. Bryan Municipal Park property from historic Downtown Bryan to the city limits shared with the City of College Station and adjacent to the Texas A&M University, generally bounded by Finfeather Road to the west and South Texas Avenue to the east.
Videos
Public Outreach
To our Bryan Midtown Community,

The Midtown Plan Advisory Committee, City Staff, and MBL Architects have been working very hard to ensure that our community members are as involved as possible in the Midtown Project. We are so grateful to those who have responded to our many outreach efforts. The questions, comments and concerns raised during this process have in some cases, sent us in new directions, and we hope that the community will continue to take ownership of this Midtown Plan as it progresses. Thank you again and PLEASE contact me with any additional thoughts, questions, concerns, or ideas.

Sincerely,
Lindsay Hackett
Project Planner, City of Bryan
lhackett@bryantx.gov
979-209-5030
How the Message Has Gotten Out
1
dynamic website with constantly updated content
4
public workshops
22
news articles about Bryan Midtown
12
interviews on radio and TV
9,243
page views for Midtown content on bryantx.gov
27,423
Facebook "impressions" to publicize Midtown Plan meetings and website
404
total Midtown survey responses
Survey Results
Of those surveyed, 92 percent agreed they are "Glad to see the City engaging in a proactive process for planning and development" of Midtown. The survey is now closed and the final results are listed below:
Where Do Survey Respondents Live and/or Work?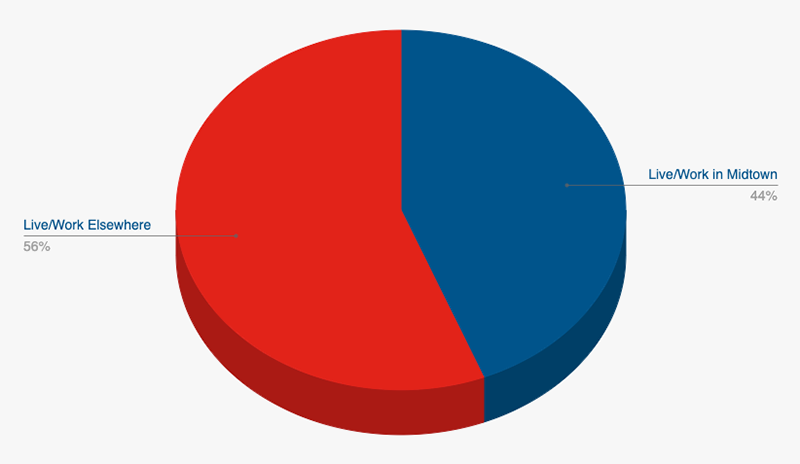 This survey was open to everyone who is interested in the future of Midtown. We are particularly interested in the responses of those who live and/or work in the Midtown area, but responses from others who shop, recreate, and receive services in Midtown have an important voice as well.
Why Do People Visit Midtown?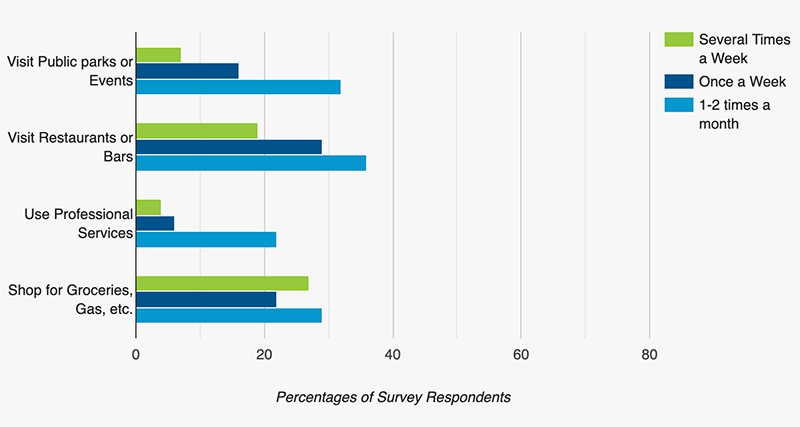 Knowing what draws people to a place helps us know what the existing assets of the area are, while revealing what gaps could be filled in the market. It appears as though a large draw for those coming to Midtown in based on utility items like grocery shopping and filling up a tank of gas. The next draw is recreational for those visiting restaurants and bars in the area. The current draw to visit existing parks or utilize services is very low at this time.
Satisfaction with Status Quo (broken down by district)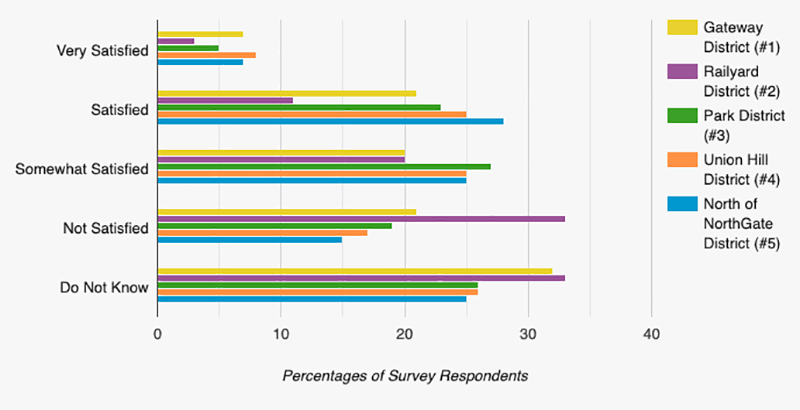 Above you can see the reaction of respondents when thinking about the way Midtown is right now. There was a lot of indecision from respondents on how to answer this question, but for those who were able to decide, there is not much strong satisfaction with the Midtown Area, particularly the Railyard District. With some clear guidelines for development, based on what the community clearly indicates as desirable for Midtown, the area should be able to meet more of the expectation of the community than it does at this current time.
What Methods of Transportation Should Be Added or Improved? (other than cars)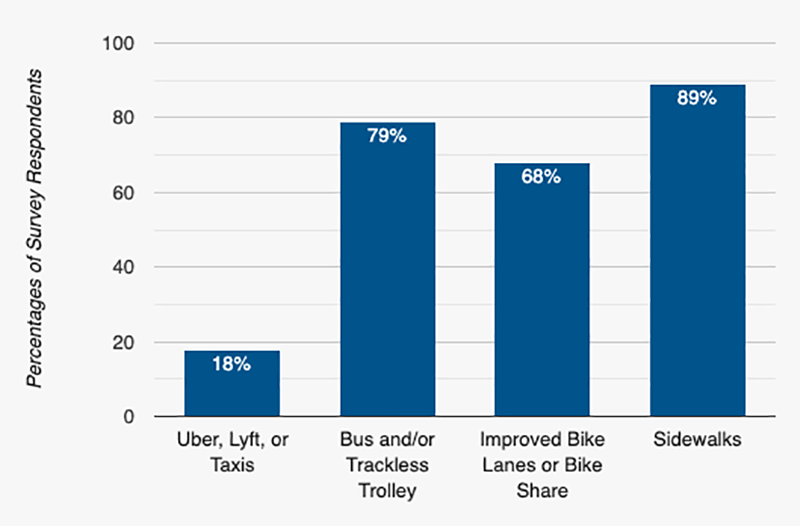 The top response regarding which transportation improvements to prioritize was sidewalks from 89% of respondents. This was closely followed by a clear desire for either a bus or trackless trolley. These two responses are similar in scope, so each response for either the bus, trolley, or both was combined together. 45% of respondents at least wanted a bus system in place in Midtown, while 48% of respondents specifically preferred the trackless trolley. 12% like the idea of both a bus and trolley in place, totaling in 93% of respondents who like the idea of a bus or trolley. Many respondents prioritized bike lanes or a bike share program and noticeably fewer respondents wanted to see a priority for paid car sharing programs.
What Beautification Standards Should Be Prioritized in Midtown?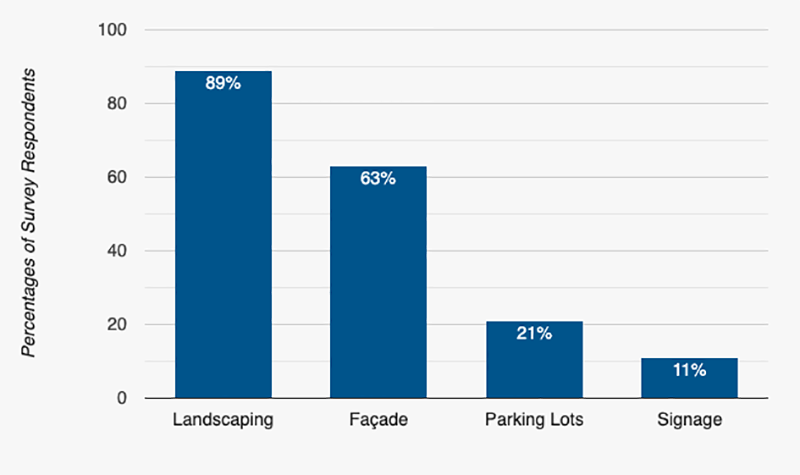 The community clearly stated that landscaping is a priority in Midtown, followed by improving the facades of the buildings that can be found in the area. The lower priorities from the respondents were parking lots and signage. This information will help how to move forward in considering partnership programs for business owners and which street improvements to focus on.
Share With Us on Social

Social Media Hashtag  :  #BryanMidtown | Join the conversation by using #BryanMidtown across social media to share your vision.
Guiding Principles, "Experience Districts," and Goals for Each Area of Midtown
Midtown Planning Area Definitions
Experience Districts: A focused planning area which incorporates physical, cultural and social realms to align and advance a desired way of living, working and playing while clearly distinguishing the unique personality of an area.
Influence Area: While not in the core planning area, these areas will need additional attention as they have influence on and are influenced by the adjacent experience district.
Aligning Principles: An organizing structure that helps align and prioritize multiple strategies within generally approved guidelines.
General Aligning Principles: Midtown Planning Area
A dynamic and aesthetically pleasing South College Avenue Corridor: One that links a revitalized downtown Bryan to a dynamic Midtown and acts as the economic engine for the surrounding neighborhoods.
Complete, connected and safe neighborhoods: Areas with convenient access to the goods, services and a wide variety of housing that meets the needs of all ages and abilities. This includes sidewalks and trails, as well as street improvements that enhance the aesthetics and experience of Midtown.
Future neighborhood infill development: Development that is context appropriate, compatible with existing adjacent structures and addresses needs of projected future demand. This approach takes into consideration the concerns of current residents while continuing to open investment opportunities in Midtown.
Opportunities to reuse existing structures whenever feasible: A mix of appropriate new development and upgraded current buildings offer a resilient economic approach to the district while cultivating the authenticity of a visually unique area of Bryan.
Alignment of the cultural, social, legal, financial and institutional structures: Alignments that lead municipal strategies and foster appropriate development to ensure all actions maximize a positive impact.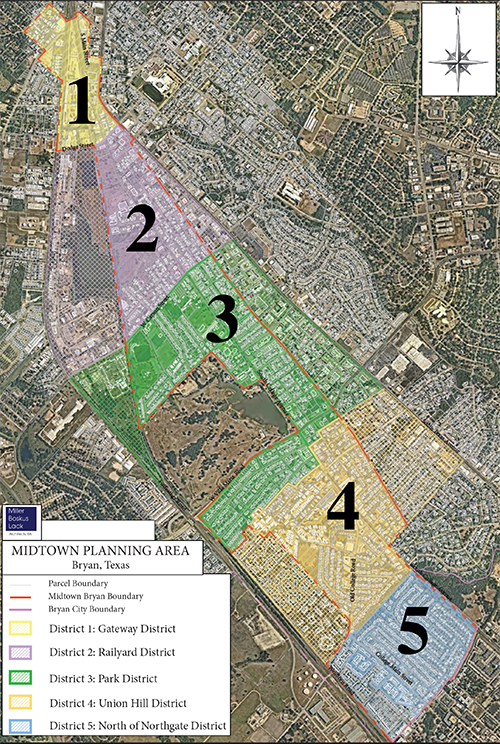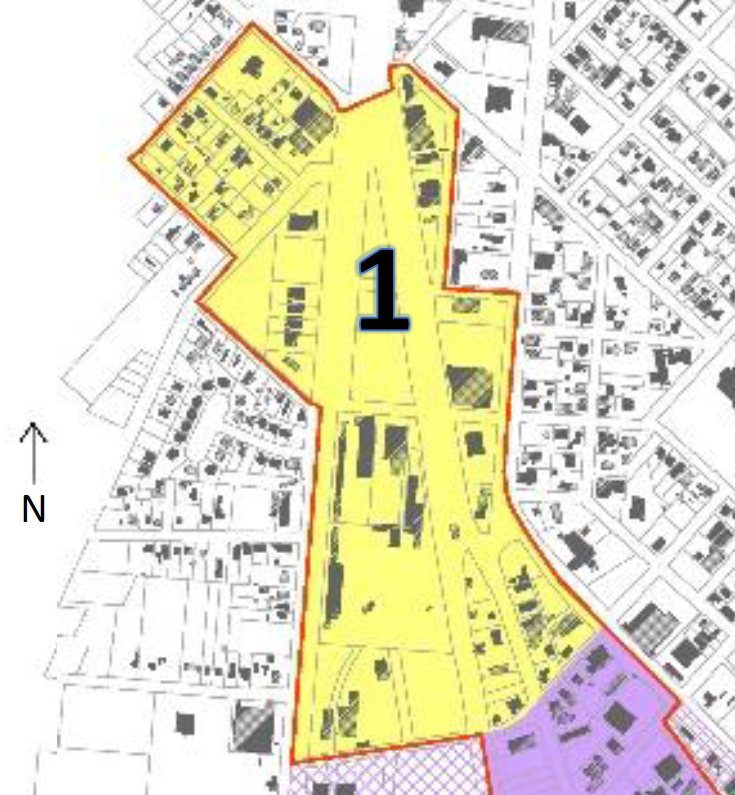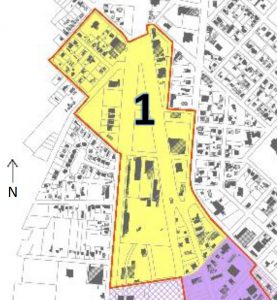 District 1: Gateway District
This district is a mix of the existing Downtown and the emerging Midtown experiences and acts as a transition between the two areas.
Enhanced Aesthetics: Coordinate design and implementation of streetscape and gateways along South College
Repurpose and Densify: Prioritize development on repurposing light-industrial and warehouse space to be used to attract artists, makers, etc., encourage mixed-use and multi-family residential and recruit adjacent neighborhood-oriented services and clustered food/hospitality concepts
Art & Culture Focus: Develop public art corridor and look to recruit arts organizations to the area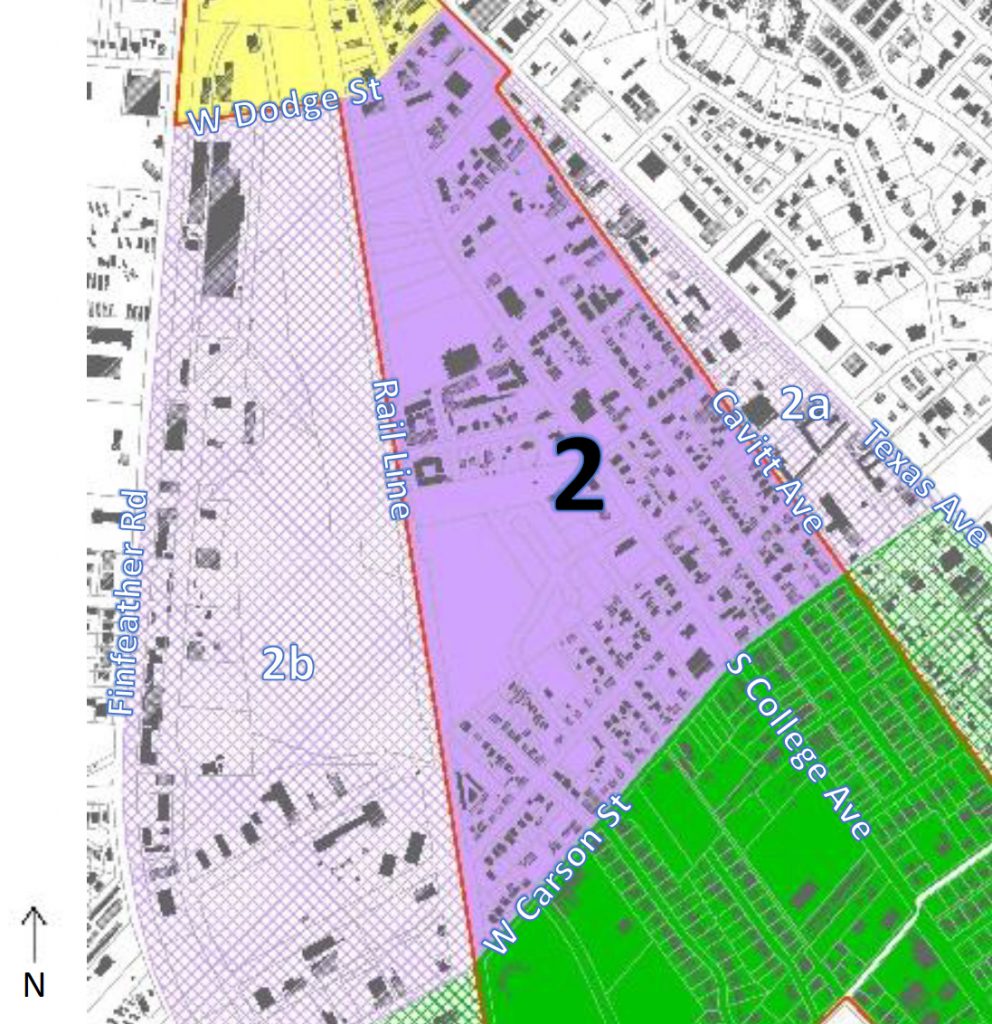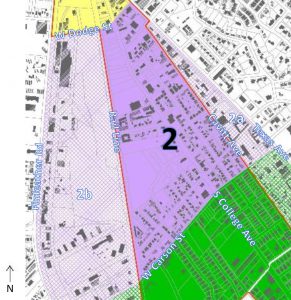 District 2: Railyard District
The district experience is driven by a walkable neighborhood feel that looks to the adjacent baseball park and north park edge as major assets.
Dynamic Neighborhoods: Promote residential development and neighborhood repair efforts to include a dynamic mix of single family, duplex and small apartment houses appropriate to enhance the current neighborhood fabric
Play Ball I: Strengthen connection between the surrounding neighborhood and the Bombers baseball stadium in the North Park Area
Influence Area 2a: Focus on mixed-use and small format multi-family residential
Influence Area 2b: Use well designed green space and repurposing of existing buildings to buffer the adjacent neighborhoods against the visual nuisances associated with the industrial zone along Finfeather Road.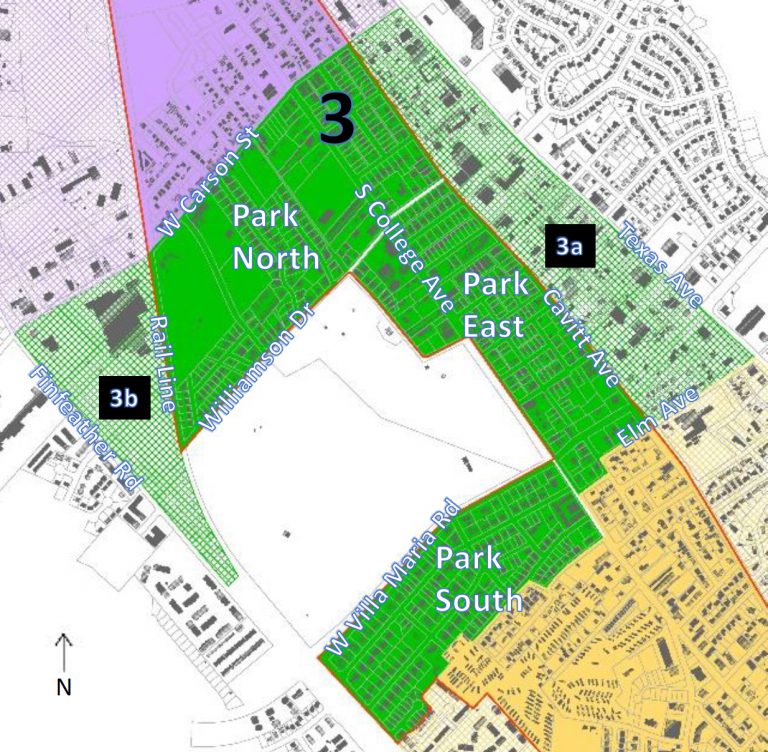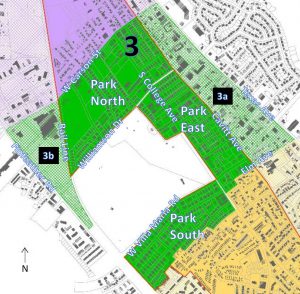 District 3: Park District
This district is strongly influenced by the proximity to Bryan Regional Park and therefore has three distinct sub-districts to address the unique challenges and opportunities within this pivotal area.
Eyes on the Park: Prioritize park-facing development to create a dynamic and active park edge
Enhance Accessibility: Enhance accessibility to park and surrounding neighborhoods through walking and biking to minimize local vehicular traffic , as well as design additional crosswalks, bike-protected lanes, wider sidewalks, on-street parking and other street calming tools
Cultivate Hubs: Recruit mix of local, regional and national destination food and hospitality concepts, and create appropriate hubs to service park and surrounding neighborhoods
Coordinated Development: Minimize large, single use parking lots and partner with private development to align parking needs, facilitate public/private agreements to share infrastructure costs on new development and create regulations that remove barriers for quality redevelopment
District 3: Park Sub-Districts
PARK NORTH
Cultivate Residential Vibe: Prioritize additional small lot homes and compatible attached housing types to densify streets adjacent to the northern park edge and surrounding neighborhoods
Play Ball II: Reinforce connection to the Bomber baseball stadium with focus on recruiting neighborhood-oriented services with small format and food/hospitality concepts clustered near the field
PARK SOUTH
Enhance Neighborhood Fabric: Continue to address the development of stealth dorms within the neighborhood, including on-site parking and lot maintenance, through code revisions that also provide opportunities for compatible small lot single family and attached-family residential where appropriate
Intentional Development: Allow development of park-facing parcels along Villa Maria near intersection of South College for well-designed mix of hospitality and services, along with detached residential and attached small format multi-family
PARK EAST
Foster Commercial Corridor: Provide an integrated shopping, dining, office and multi-family living options along South College corridor
Improve Streetscape: Street improvements on South College should balance pedestrian, bike, and automotive traffic to create more connectivity between park and surrounding neighborhoods
Influence Area 3a: Future development should provide transition between the Park East sub-district with focus on densified commercial and multi-family between South College and Texas Avenue.
Influence Area 3b: Development should follow Park District General Aligning Principles to enhance adjacent park, help aesthetics of Finfeather Road and minimize visual impact of rail line and adjacent industrial area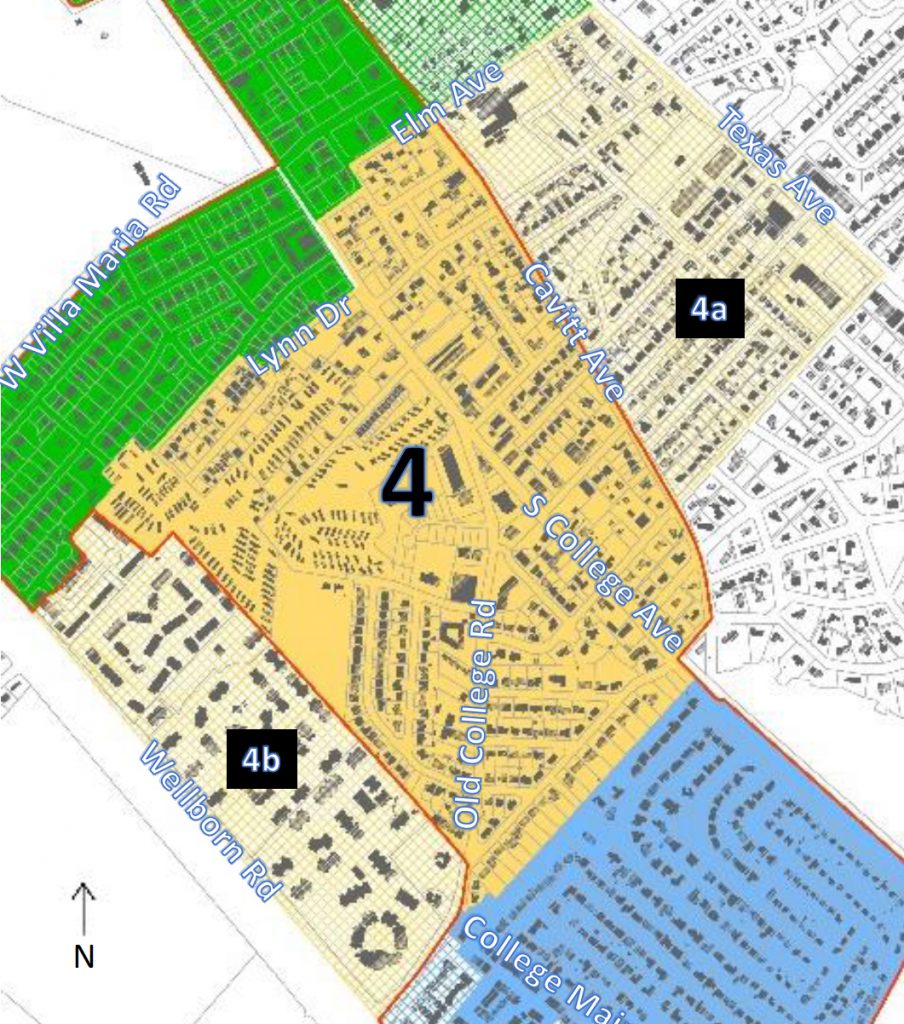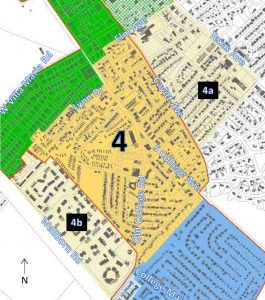 District 4: Union Hill
The Union Hill District experience is oriented towards unique culinary, entertainment and service options that provide value to the surrounding neighborhoods, attracts customers from around the region and provides tourism brand building experiences.
Cultivate Unique Culinary Scene: Focus on enhancing traditional food drivers (Farm Patch, Chicken Oil, J Cody's, etc.) and create a clustered development plan to enhance this experience with new options, including microbreweries, coffee roasters, cideries, etc.
Connect to Surrounding Neighborhoods: Enhance the walkability and connectivity for local access and develop new transportation options that connect this area to both Downtown and College Station
Align Parking Needs: Maximize parking lot investments through managed on-street and shared parking plans
Focus Development: Recruit additional business mix of restaurants, supportive retail, and entertainment clusters along South College Avenue and Old College Road. Focus multi-family housing along the South College Avenue corridor and guard neighborhoods just off South College Avenue corridor from context-inappropriate development
Influence Area 4a: Redirect medium density housing and large multi-family projects to more appropriate areas identified throughout the Midtown Planning District
Influence Area 4b: Strengthen easy walking/ biking connection to Union Hill by orienting auto oriented ingress/egress of multi-family projects from Wellborn Rd and pedestrian focused access facing Union Hill District.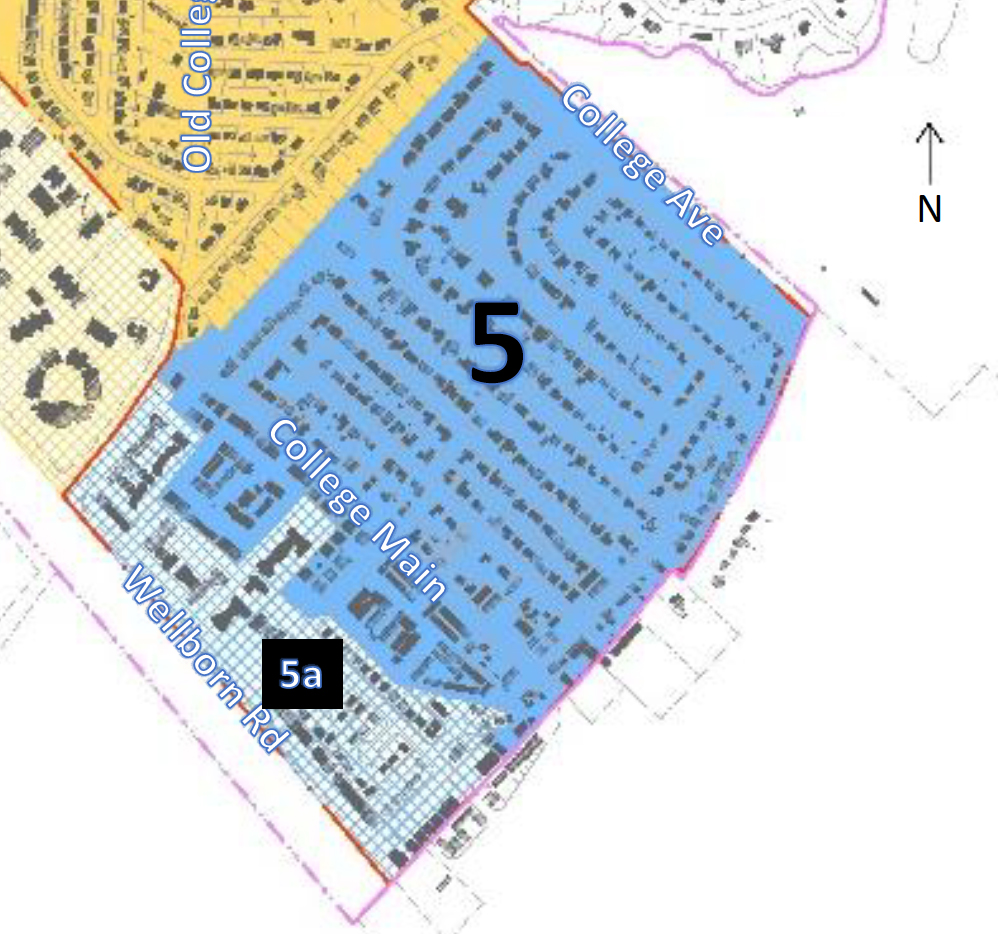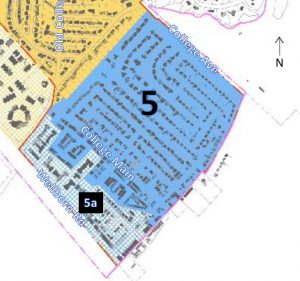 District 5: North of Northgate
As the gateway between College Station and Bryan, this district should be driven by an enhanced residential experience that takes advantage of the proximity to the services and amenities of both Union Hill District and College Station.
Incorporate Student Experience: Address on-street and off-street parking from multi-family housing and develop effective standards and design conditions for student-oriented housing
Cultivate Strong Neighborhoods: Focus new development on maintaining a complete neighborhood fabric that may include small format retail, corner stores, paired housing, attached single family, and small apartment houses
Concentrate Development: Higher density office/commercial and larger multi-family projects should focus on direct adjacency along South College Avenue Corridor and College Main Street
Influence Area 5a: Multi-family housing should remain a primary focus that reinforces a more pedestrian experience along College Main and auto oriented ingress/egress off Wellborn Rd.
Background and Statistics: A Market Opportunity Summary
Bryan / College Station, TX is economically healthy, with strong employment and household growth, as well as historically low unemployment rates. The region's economy is anchored in Government and Education, paired with rapidly growing sectors such as Professional & Business Services and Leisure & Hospitality. This thriving economy will help drive long-term value across the region.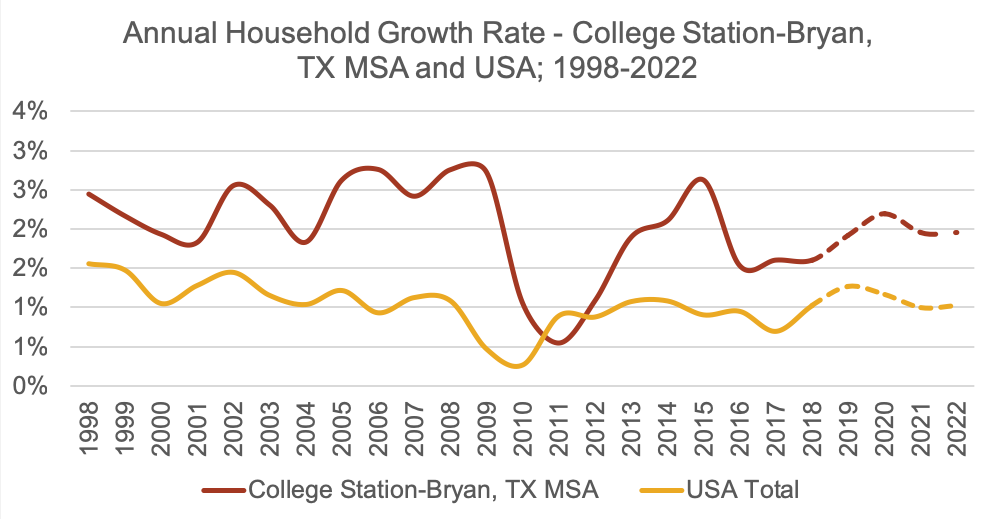 The Midtown Opportunity
Midtown presents a unique opportunity for Bryan and the region to offer this wide array of missing-middle housing that has garnered limited attention in the past few decades. The district's strategic location between vibrant Downtown Bryan and the growing Texas A&M University campus, paired with public improvements to enhance access, public utilities, and pedestrian experience help solidify the area's long-term appeal for new housing development. As the area adds new households and additional spending potential, small-scale commercial investment becomes more attractive, making the delivery of neighborhood services such as coffee shops, pharmacies, doctor offices, boutique neighborhood markets, and more, financially feasible for commercial operators that rely on high foot-traffic and convenient vehicular access.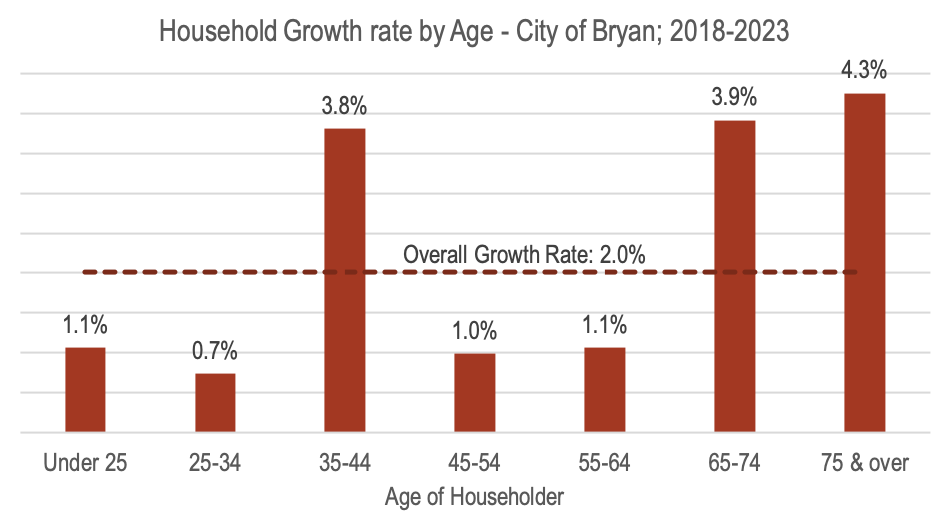 Not Just Student Housing
The City of Bryan in particular illustrates promising potential, with recent trends indicating that Bryan will likely lead the region's future household growth. Though the growing student body in the area draws a large share of attention, households aged 35 to 44 and over the age of 65 are actually the fastest growing segments within the City of Bryan. Furthermore, the region's focus on aligning industries with Texas A&M, Blinn, and high school curriculums could help encourage more post-graduates and young professionals to remain in Brazos County after graduation. All of these factors indicate a need for a broader variety of housing to meet the life stages of the diverse households and families living in Bryan and Brazos County. Whether it is young professional roommates seeking a space to rent near employment/entertainment, a newlywed couple purchasing their first home, a family upsizing to account for their growing children, or empty nesters looking to downsize into a lower maintenance home, all households need access to attainably priced housing that is aligned with their lifestyle and priorities.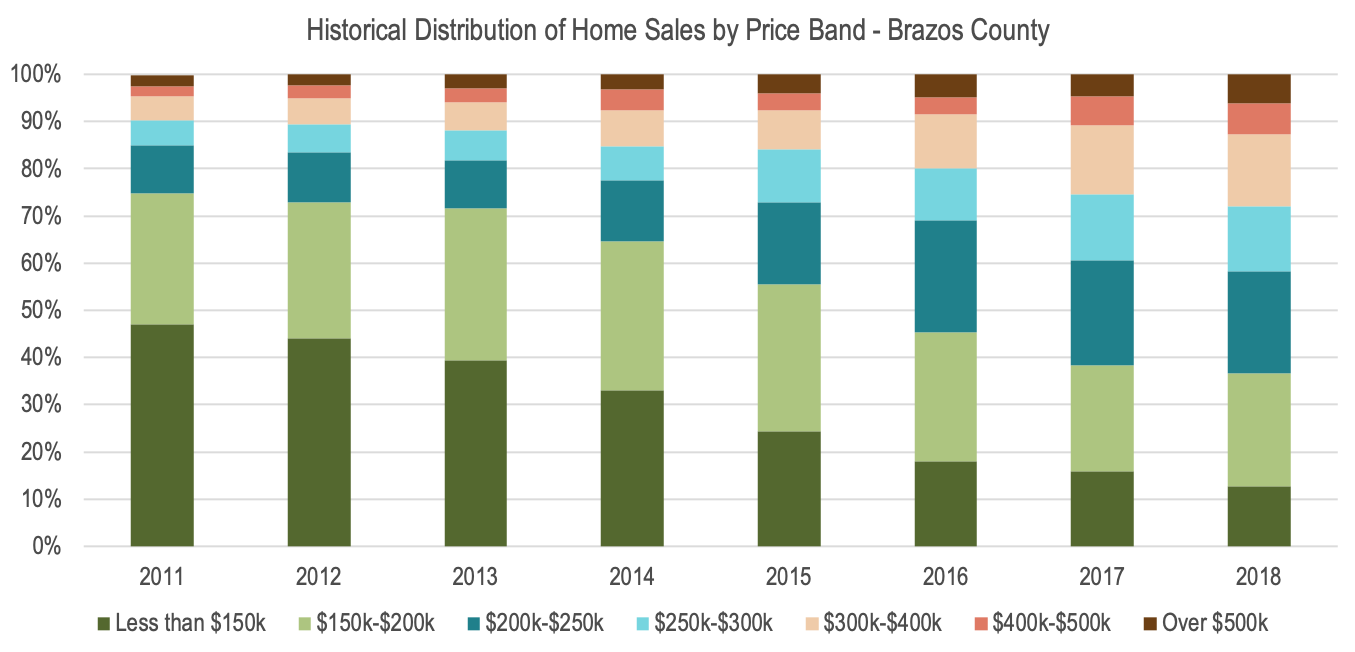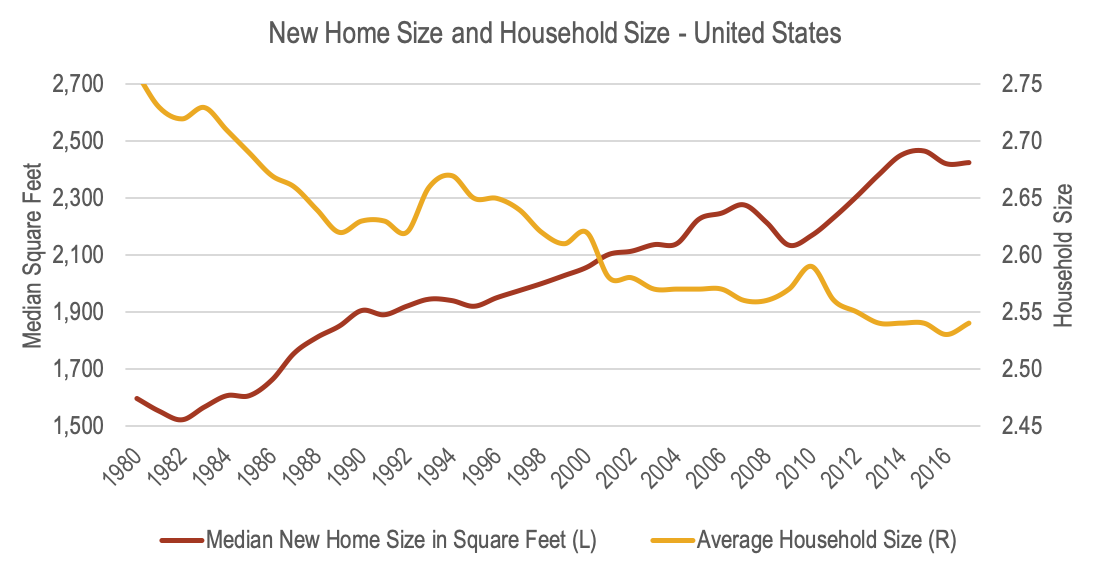 Affordability and Home Sizes
Lower levels of new housing supply during this real estate cycle has significantly pushed home/land price appreciation in the region. In 2011, approximately 75 percent of home sales in Brazos County occurred below $200,000, in 2018 that same home price band accounted for less than 37 percent of home sales.
A potential near-term solution to the affordability issue hindering the region's growth potential is the delivery of smaller homes for households that require less space. Across the country, homes are getting larger and more expensive despite demographic shifts towards smaller households, especially among millennials and baby boomers, which represent the majority of active homebuyers. This discrepancy between demographic and housing trends could be addressed if builders, developers, and homebuyers were given the tools necessary to deliver the housing that they or their neighbors seek.
Strong Growth Potential
Overall, the City of Bryan and the region's strong growth potential, favorable demographic trends, Midtown's unique characteristics, and the right toolkit will help drive new residential and commercial development across the Midtown District.
Zoning and Development: What Changes Could Come From the Midtown Area Plan?
During the Bryan Midtown planning process, the community has been very involved through online surveys, public workshops, stakeholder meetings, and one-on-one exchanges. The changes that arise from this plan will be clearly aligned with the principles created and shaped throughout this process and the continuous feedback from the community that the City and consultant team have received. The purpose of the recommendations that arise from this process are to:
Added flexibility to South College development standards
Recommended infrastructure improvements on South College
Increase connectivity within Midtown to take pin-point pressure off of certain areas and improve overall traffic flow
Diversify transportation options, including walking, biking, and other vehicle based options
Beautify key corridors in Midtown with landscaping and improved design
Organize development to be harmonious with the surrounding community
Team and Vision
It takes a community to make great places work and this project is no exception! There will be numerous opportunities for you or your organization to get involved and participate in the process. The Midtown Area Plan Advisory Committee (MPAC) was appointed by Bryan City Council on November 13th and includes:
Local business owners and real estate developers
Representatives from the Bryan Business Council, Planning and Zoning Commission, Parks and Recreation Advisory Board, City Council, City staff, and neighborhood organizations
Representatives of local trade, tourism and economic development groups
Consultant Team Support
Miller Boskus Lack Architects is located in Fayetteville, Arkansas. Our cross disciplinary team includes Architects, Urban Designers, City Officials, Interior Designers, Mixed-Use Development Experts, and LEED Accredited Professionals, as well as a suite of partners with experience in Zoning / Ordinance Writing, Civil Engineering, Economic Development, Grant Writing, Public Engagement, and Plan Implementation.
Why Were We Interested in This Project?
Midtown Bryan is uniquely positioned to bring together all the wonderful things that make a city like Bryan thrive. From an emerging downtown, to a new park, to academic services, and beautiful established neighborhoods, Midtown has the capacity to both connect and host regionally significant amenities. Through this process, we hope to empower local residents – giving them the tools they need to make each neighborhood in Midtown the best version of itself.
Located in Fayetteville, Arkansas, the Infill Group is a planning and development firm which helps clients create resilient neighborhoods through real estate development, placemaking projects, careful code amendments, and local workforce training.
Why Were We Interested in This Project?
Midtown has incredible potential and the people we are working with are committed to making Bryan better for all its residents.
Located in Bentonville, Arkansas, the Velocity Group works closely with clients to discover their unique DNA of Place™, approaching each project with a comprehensive experience design filter that integrates form, use, economy and story. We do not offer a "check the box" approach. Our process is incremental and begins with discovery, ensuring human and capital resources are committed with clear goals and expectations. The Velocity Group has worked all over North America, helping municipalities, non-profits and private developers craft the big vision, engage and align community stakeholders, and launch realistic and economically grounded actions.
Why Were We Interested in This Project?
Helping communities uncover and celebrate their unique stories, culture and sense of place is our passion. The opportunity to work alongside the citizens of Bryan in this process of designing and strengthening the elements of the Midtown experience is an honor.
R + T Studio is a real estate development and consulting company located in Bryan, TX and is committed to building places that are economically productive, fiscally disciplined, and locally based. Every one of our projects seeks to build the local economy through the use of local capital, labor, and financing to support the growth and flourishing of local citizens.
Why Were We Interested in This Project?
I'm excited to be working on this project because Bryan is my home. It's where I live and work, and it is so rewarding to be able to be a part of a project that is going to make my community better.
With offices in Washington, DC; Austin, TX; Los Angeles, California and Orlando, Florida, RCLCO has been the "first call" for real estate developers, investors, the public sector, and non-real estate companies and organizations seeking strategic and tactical advice regarding property investment, planning, and development since 1967. RCLCO leverages quantitative analytics and a strategic planning framework to provide end-to-end business planning and implementation solutions at an entity, portfolio, or project level. With the insights and experience gained over a half-century and thousands of projects–touching over $5B of real estate activity each year–RCLCO brings success to all product types across the United States and around the world.
Why Were We Interested in This Project?
We are excited to be part of a team that can help shape the future for the City of Bryan and help plan an inviting environment for all residents that call Bryan home.
Questions? Contact Us
Matthew Hoffman, AIA
Miller Boskus Lack Architects, P.A.
Phone: 479-443-7121
Matt@mbl-arch.com
Lindsay Hackett, Midtown Project Manager
City of Bryan, Texas
Phone: 979-209-5030
lhackett@bryantx.gov