Recycling Programs
The city itself doesn't offer curbside recycling, but here are some private-entity options.
Used Oil and Tire Recycling Center
The City of Bryan's used oil and tire recycling center at 1111 Waco St. allows Bryan residents to properly dispose of used oil, filters, cooking grease and tires from residential use free of charge.
Please note: Tires and oils generated from commercial or industrial use will not be accepted.
This facility is manned by city staff members and operates from 8 a.m. to 5:30 p.m. Monday through Friday, and 8 a.m. to noon on Saturday.
Residents should enter on Waco Street and remain in their vehicle until an attendant is able to assist. You may be required to show proof that you are a Bryan resident/solid waste residential customer (such as your BTU bill or driver's license).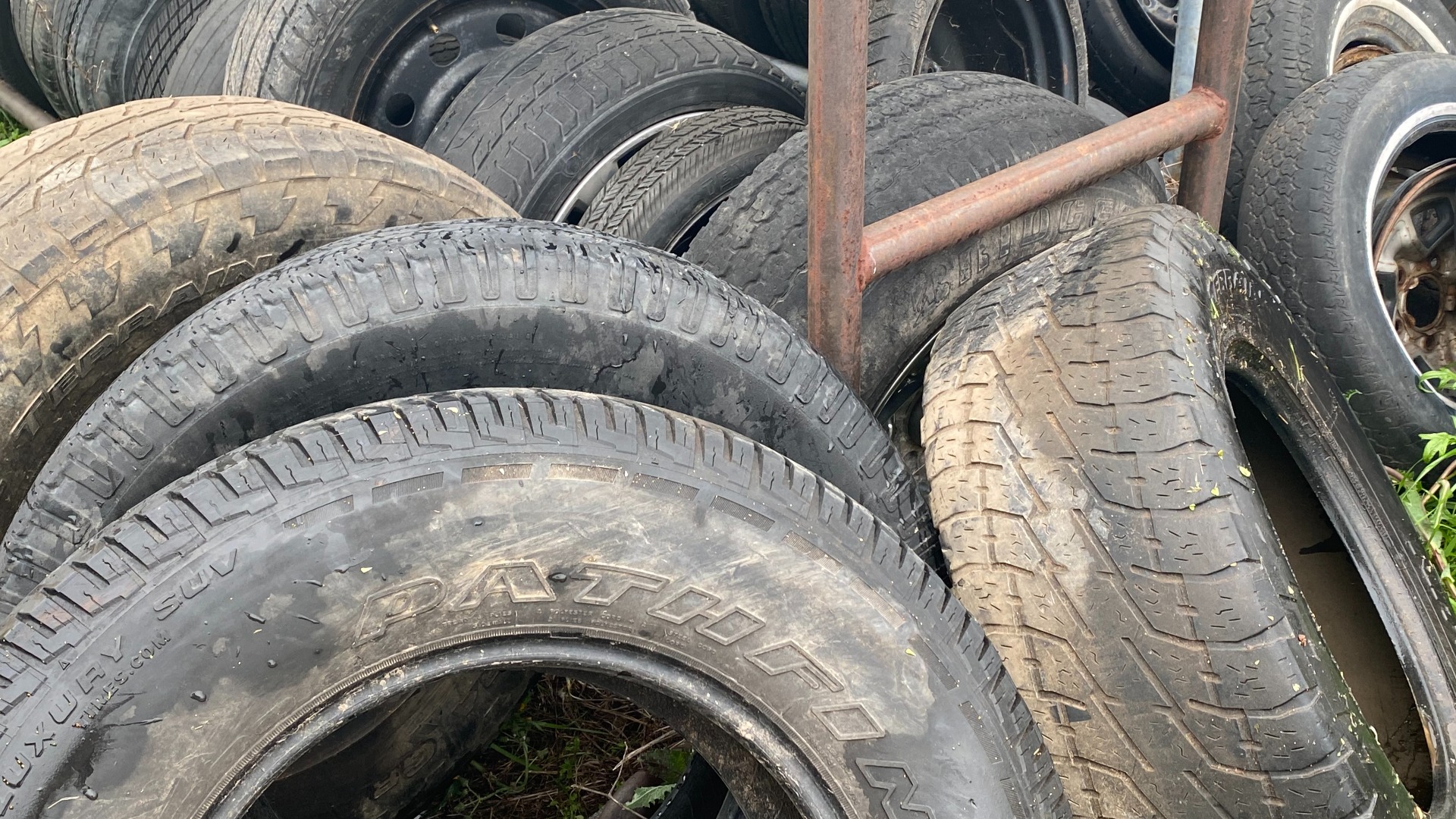 TIRE RECYCLING: Bring up to 8 used tires per visit, which will be unloaded and collected by city staff. Accepted materials include used passenger, light and medium duty tires (off rim only). (Tractor-trailer, heavy equipment or tires generated from commercial or industrial use will not be accepted.)
USED OIL: Bring up to 5 gallons of used motor oils, filters and cooking oils/grease per visit. Residents will be directed to dispose of their oil at the do-it-yourself oil recycling center. (Restaurant cooking oils, used oils/filters from mechanic shops and industrial oils will not be accepted.)
And remember, when transporting used oil, please place it in a secure container that may be emptied and reused for future recycling.
Twin Oaks Landfill: Used Motor Oil and Oil Filters
The Twin Oaks Landfill does accept used motor oil and used oil filters. Customers should drive to the scales to check in. The service is free and is available during normal business hours:
Monday – Friday: 7 a.m. – 5 p.m.
Saturday: 7 a.m. – 1 p.m.
Find Facilities
Find other local recycling facilities at Earth 911.
Environmental "HOT" Topic
Want to take a break from the heat, lower your electric bill and be good to the environment? Here are some tips from our house to yours:
Compact Fluorescent Bulbs
Did you know that simply replacing all of your incandescent light bulbs with energy-savings Compact Fluorescent (CLF) bulbs can significantly reduce your energy bill?  Compact Fluorescent lights give off the same amount of light as incandescent, but use fewer watts (energy). CFLs, when compared with standard incandescent bulbs, offer many benefits. First, they help save energy and money. They use 2/3 less energy than standard incandescent light bulbs, and last up to 10 times longer. Replacing a 60-watt incandescent with a 13 watt CFL can save you at least $30 in energy cost over the life of the bulb. Second, CFLs offer convenience, because they last longer, and come in different sizes and shapes to fit almost any fixture. In addition, CFLs produce about 70% less heat than standard incandescent bulbs, so they're safer to operate and can help cut energy cost associated with home cooling. When shopping, always look for ENERGY STAR qualified CFLs. They are available in different sizes and shapes to fit in almost any fixture, for indoors and outdoors.
If every American home replaced just one light bulb with an ENERGY STAR, we would save enough energy to light more than 2.5 million homes for a year and prevent greenhouse gases equivalent to the emissions of nearly 800,000 cars.
Where to use CFLs
To get the most energy savings, replace bulbs where lights are on the most such as family and living rooms, kitchens, dining rooms, and porches.
Some CFLs have trouble operating in enclosed fixtures.
How to dispose of CFLs
Always dispose of your CFL properly. While CFLs for your home are not legally considered hazardous waste according to federal solid waste rules, it is still best for the environment to dispose of your CFL properly upon burnout. Only large commercial users of tubular fluorescent lamps are required to recycle. If recycling is not an option in your area (see below on how to find out), place the CFL in a sealed plastic bag and place with your regular trash.
Home Depot in College Station has a CFL Collection/Recycling program in place for the general public. Bulbs can be taken to the Returns/Service desk. There is no limit to the number of bulbs nor any required packaging.
IKEA (Frisco store) has CFL Collection/ Recycling program available to the general public. Individuals can take their bulbs (no limit and no required packaging) to either the Returns Desk or the "As is/ Clearance" area.
Safe clean-up precautions
If a CFL breaks in your home, open a nearby window to disperse any vapor that may escape, carefully sweep up the fragments (do not use your hands) and wipe the area with a disposable paper towel to remove all glass fragments. Do not use a vacuum. Place all fragments in a sealed plastic bag and follow disposable directions above.
Household Hazardous Waste
The Brazos Valley Solid Waste Agency (BVSWMA), in conjunction with the cities of Bryan and College Station, sponsors a Household Hazardous Waste Collection (HHW) each year in the fall and spring.
The events are currently held at the University Services Building, 3380 University Drive East on Harvey Road near Veteran's Park in College Station.
This event allows all citizens in our area the opportunity to dispose, free of charge, numerous household hazardous wastes such as: cleaning solutions, corrosive waste, ignitable waste, automotive waste, pharmaceuticals, computers, fluorescent light bu;bs and many other items.
For a complete list of accepted items and more information please visit the Brazos Valley Solid Waste Management Agency's Household Hazardous Waste web page. BVSWMA has a 24-hour hotline for more information at (979) 764-3809.
This event is another means of keeping our community clean and safe. By diverting hazardous chemicals from our waste stream and landfill, we can keep our water, air and soil healthier for all of us.
This event only takes place twice a year and, in the meantime, there are many ways you can lessen the amount of toxins entering our natural environment. Remember to look for less-toxic cleaners, detergents and household products. Try using organic products on your lawn and gardens, including compost, which acts as a natural fertilizer. Share leftovers with friends and neighbors, and recycle materials such as newspaper, aluminum, #1 & #2 plastics, clear, green and brown glass, cardboard, steel cans, used motor oil and oil filters, tires and brown and clear plastic grocery bags.
If you have any questions regarding Household Hazardous Waste or the collection events, please call Micaela Farrington-Aguilar, BVSWMA Event Specialist, at (979) 764-3832.
Here's a list of items acceptable for disposal at the Household Hazardous Waste Event:
Corrosive Waste:Boric acid,Car battery acid,Copper cleaners/metal cleaners,Disinfectants,Hydrochloric acid,
Phosphoric acid,
Pool acid,
Toilet bowl cleaners,
Caustics,
Ammonia & ammonia-base cleaners,
Battery terminal cleaner,
Caustic soda,
Drain cleaners,
Lye,
Oven cleaners,
Poisons,
Ant & roach killers,
Antifreeze Baygon,
Black Flag,
Chlordane,
Chrome/silver polish,
DDT,
Diazinon,
Dog repellant,
Dursban,
Flea spray/powder,
Fungicides,
Insect sprays,
Lindane,
Malathion,
Methylenechloride,
Moth crystals,
Off insect repellant,
Pharmaceuticals,
Plant food,
Pruning paint,
Pyrethrins,
Raid,
Rock salt,
Rose dust,
Round-Up,
Sevin dust,
Snail/slug killer,
Tree root/stump killer,
Weed and grass killer,
and Windshield wiper fluid
Ignitable Waste:Adhesives & glues,Air fresheners,Asphalt driveway toppings,Charcoal lighter fluid,Enamel/oil-based paints,
Epoxy paints,
Fiberglas resin and hardeners,
Gasoline,
Hobby solvents,
Kerosene,
Lacquer paint,
Lighter fluid,
Linseed oil,
Liquid waxes,
Nail polish removers,
Paint/varnish removers,
Paint strippers,
Petroleum distillates,
Plastic model cement,
Rug cleaners,
Spot removers,
WD-40,
and
Wood stain
Cleaning Solutions:Oven cleaners,Wood cleaners,Wood polishes,Metal cleaners,Metal polishes,
and Floor polishes
Automotive Waste:
Automotive body filter,
Automotive oils,
and
Brake fluid
Curbside Recycling
The City of Bryan permits certain recyclers to offer curbside recycling to the residents of Bryan. These programs are separate from city services, and associated fees are paid directly to the recycling hauler by those residents who wish to participate in a curbside program. For more information or details on service fees, please contact one of these permitted vendors: