Coronavirus: Small Business Support and Recovery
"As an entrepreneur and small business owner, I am inspired by our city's small businesses," Nelson said. "Bryan is one of America's great cities for small business. The Bryan City Council is committed to ensuring the City of Bryan does everything it can to support them during this health crisis and through recovery."
– Mayor Andrew Nelson
Amid the economic fallout from the COVID-19 pandemic, we want to provide our local small-business owners with a one-stop-shop where you can learn about and apply for federal, state, and local financial support and recovery programs.
We want to make this process as easy as possible. That's why we're providing contact information for specific local experts if you need one-on-one help. We're also making sure that these online resources are focused solely on the needs of small businesses, and that they are trusted and reliable sources of information.
As Mayor Andrew Nelson has said, "We're all in this together." So, let us help you in these uncertain times.
How has COVID-19 Impacted Your Small Business? Take Our Survey and Let Us Know

The City of Bryan would like to hear from small business owners who have been impacted by COVID-19 about the state of their business through a new survey. We are listening.

The purpose of the survey is to establish baseline data from Bryan small businesses that captures the initial impact COVID-19, as well as to document real-time concerns, challenges and opportunities. The survey is asking about business operations from March 1, 2020 through May 1, 2020.

Furthermore, the city intends to conduct a second round of the survey later this year and a third and final survey in 2021. By conducting multiple rounds of the survey, the city will be able to measure our state of business over time, as we see a full reopening of our local economy.

So, why take the survey? We are listening and appreciate every small business in Bryan. This information will help guide the City Council in its economic recovery planning efforts, policy decisions and targeted strategies to not only help Bryan small businesses recover, but grow and thrive.
BCS Operation Restart Task Force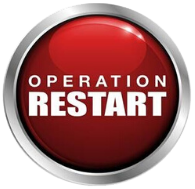 Since mid-March, Bryan, College Station and Brazos County have been immersed in emergency response to the initial wave of citizens and local businesses impacted by the COVID-19 public health crisis. To that end, both cities have taken instrumental steps to establish effective municipal programs for short‐term economic sustenance, and forming local networks for information sharing on best practices.
Formation of BCS Operation Restart Task Force
Recognizing the need for economic recovery beyond each of the twin cities' borders, and beyond the initial wave of impacted businesses, both the cities and the county are teaming up to form a new task force focusing on all impacted industry sectors throughout the Bryan-College Station community.
Based upon current guidelines provided by federal and state governments for the opening of America and the State of Texas, the task force will focus on Operation Restart to safely, quickly and effectively restart the local economy, without overwhelming local healthcare infrastructure. Key to this initiative is to partner with the Brazos County Health District and local business leaders to create a "Pandemic Ready Business Program" to build consumer confidence and lower the spread of COVID‐19, utilizing and communicating best practice methods to increase social distancing within core business processes for each local industry sector:
Supermarkets
Construction
Banking
Real Estate
Spas & Fitness
Food & Beverage
Hospitality
Personal Services
Manufacturing
Clothing/Dept. stores
Also included are representatives from local government, public education, higher education, health care, and oil and gas sectors, many of which are affected in very different but profound ways as anchors within the local economy. Industry representatives will serve as resources to help guide businesses into how they will be able to re-open and adhere to new health and safety protocols.
Mission of the BCS Operation Restart Task Force
The mission of this newly formed Task Force is to assist in quickly executing a "Pandemic Ready Business Program" tailored to industry sector and aligned with federal and state public health guidelines and phasing for reopening various industry sectors, following Texas Gov. Greg Abbott's guidelines.
This program will utilize communication kits, checklists and signage that can be posted at storefronts and other visible business locations, outlining key public health safeguards and actions each business has taken, what each business has asked their employees to do, and what they ask customers and guests to do, all working together to fight the spread of COVID‐19.
Task Force Leadership
The BCS Restart Task Force Executive Committee will be led by Bryan Mayor Pro Tem Greg Owens, College Station Mayor Pro Tem Linda Harvell, College Station Councilman John Nichols, Bryan Councilman Buppy Simank, Brazos County Commissioner Nancy Berry, Health District Environmental Services Manager Bob Lamkin, as well as private sector representative and CEO of CC Creations, Kenny Lawson, who will serve as Tri-Chair with the two Mayors Pro Tem. The task force will provide weekly updates and receive feedback from both mayors, and ex officio representatives from Texas A&M University, Blinn College, Bryan ISD, College Station ISD, BCS Chamber of Commerce and the Brazos Valley Economic Development Corporation.
Small Business Assistance Resources
City of Bryan grant program for small businesses and nonprofits

The City of Bryan will provide matching grant payments for small businesses and nonprofits in Bryan who have been affected by the COVID-19 pandemic. The grants will be provided to the United Way to be administered in conjunction with the Brazos Valley COVID-19 Community Relief Fund.

The total agreement is for $500,000, with 80 percent of funds directed toward small businesses in the City of Bryan to assist in keeping their workers employed, and 20 percent of funds toward nonprofit organizations that provide food, rent, utility assistance and/or medical care to Bryan residents. Businesses and nonprofits will be able to apply for the grants of up to $15,000 through the Brazos Valley COVID-19 Community Relief Fund website.

Applications for these City of Bryan grants open April 6, 2020.

Bryan Business Council / College Station Bridge Loan Program

The City of College Station and the Bryan Business Council (BBC) have partnered with the Brazos Valley Council of Governments to create a Bridge Loan Program to assist small businesses that have seen a substantial reduction in revenue due to the COVID-19 outbreak. Applications open on April 27, 2020.

Small businesses need short-term working capital to cover essential expenses such as payroll, rent, and utilities. Bridge loans help businesses pay those costs until they receive more permanent assistance. Bridge loans of up to $25,000 are available to qualifying businesses, which must repay the loan after receiving an EIDL. The loans have a maturity of three years at an interest rate of about 3%. No payment is required for up to 6 months.
Local Contacts
Todd E. McDaniel, CEcD
City of Bryan Economic Development
(979) 209-5070
tmcdaniel@bryantx.gov
Jim Pillans
Brazos Valley Small Business Development Center
(979) 260-5222
bvsbdc@uh.edu
(Free business consulting)
Info for Restaurants Seeking Assistance
Here is information, and documents that restaurant owners will likely need when applying for state and federal assistance programs:
Basic COVID-19 Guidelines for Employers
Compiled by Aaron S. Demerson of the Texas Workforce Commission
Click on each question to view answers
What precautions does the federal or state government recommend to lower the risk of Covid‐19 exposure?
Current CDC guidelines for those who are concerned about exposure or symptoms for Covid‐19 are accessible online. The Texas Department of State Health Services has some useful resources on its website. Employers may also call the city or county health authorities in their places of operation for further assistance.
What does the CDC recommend regarding quarantines?
The CDC guidelines do not currently include involuntary quarantining for those who have been exposed to a higher‐than‐normal risk of coronavirus. However, voluntary self‐quarantining is mentioned as one way that employees who feel the onset of symptoms can assist in minimizing the risk of spreading disease. Naturally, good judgment and common sense go a long way, and employees who voluntarily self‐quarantine should be treated the same way that any other employee would be treated who reports absences due to medical conditions, i.e., apply the company's normal medical absence policy.
Is an employer allowed to send an employee home if they are showing signs of illness, such as coughing, sneezing, or report that they have aches or chills?
Yes. In keeping with an employer's general duty under OSHA to maintain a safe and healthy workplace for employees, employees who appear to be sick may be asked to go home, but do so as politely and discreetly as possible. However, the employer should be consistent and treat all employees who exhibit risky symptoms the same.
Do we need to worry about medical privacy laws?
Medical information enjoys the highest degree of privacy protection. Other employees do not have the right to gossip about others if the gossip violates their right to be free of a hostile work environment or invasion of privacy. Legitimate concerns about health issues of employees should be discussed with appropriate supervisors, not with others who have no authority to do anything about it.
What if we know that an employee has been exposed to COVID‐19, but they are showing no symptoms?
Generally, there is no Texas or federal law that would prohibit a company from telling employees to stay home if they have had a higher‐than‐normal degree of exposure to individuals actually infected with the disease. As noted above, be consistent and do not base self‐isolation orders on factors such as race or national origin. There have been scattered reports of ethnic discrimination, particularly against people who look like they might have come from Asia. The EEOC is already warning employers that singling employees out based on ethnic or national origin concerns could trigger a discrimination charge.
Would the employer have to pay sick leave to that employee?
Yes. If the company offers such paid leave. Paid leave policies should be followed ‐ failure to pay for leave owed under a written paid leave policy is a violation of the Texas Payday Law. On March 18, 2020, President Donald J. Trump signed into law the Families First Coronavirus Response Act. This new law requires a certain amount of paid sick leave for employees.