Local Area Traffic Management
The Local Area Traffic Management program (LATM) is a request-based program to improve the quality and safety of neighborhood streets. This is achieved by installing traffic calming devices along the requested street segments. These devices may include, but are not limited to, speed humps, speed tables, speed cushions, roundabouts, median islands, chicanes and bulb outs.
Active LATM Speeding Projects and Future Requests
If you would like your street considered for the future, please download and review the information in the application packet, fill out and sign the request form, and send it to:
City of Bryan
Local Area Traffic Management Program
Municipal Service Center
PO Box 1000
Bryan, TX 77805
Please note that only speeding mitigation is being considered on a limited basis at this time. Mitigation of cut-through traffic is not being considered at this time.
If you have any questions about LATM, please call (979) 209-5900.
Upcoming LATM Safety Improvement Projects
On January 10, 2017, staff presented to the City Council, the results of the Local Area Traffic Management pilot program.
The City Council agreed with staff's recommendation to fund all eligible LATM requests from the pilot program. These projects will be implemented by the end of 2017.
Broadmoor Drive from Nash Street to Trophy Drive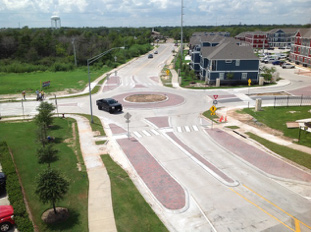 Update: On Friday, August 26, 2016, construction of the new modern roundabout at Broadmoor Drive and Nash Street was completed and is now open to through traffic. As a part of this project, permanent traffic islands were constructed at the intersection of Broadmoor Drive and Trophy Drive as well as new pedestrian crosswalks and sidewalks, improving safety and walkability.
Work began on May 16, 2016 in response to community concerns regarding traffic associated with the apartment complex on the north side of Nash Street that are now open. The roundabout moderates the flow of traffic while also providing a safer, more efficient intersection for everyone. The permanent roundabout, which is larger than the temporary roundabout, is designed to work safely and efficiently with the new driveway of the apartment complex.
The permanent roundabout is larger than the temporary roundabout that was tested in November 2015 and is designed to work safely and efficiently with the new driveway of the apartment complex. The temporary testing revealed that the vast majority of motorists have an appropriate level of understanding of roundabouts and demonstrated their ability to travel through them safely. It also provided the opportunity to inform the public of what was being considered for this intersection. As the test was viewed as successful, the City of Bryan decided to move forward with the concept of this intersection being converted into a single lane roundabout. These findings were shared at a community meeting held at City Hall on November 18, 2015. View the presentation here.
More Info About Roundabouts
While there are excellent examples of roundabouts in Bryan, particularly at College Main and Old College Road and at W. 23rd and Main Street, for some residents, this type of intersection may not be familiar. Here are some resources that will help you understand what roundabouts are and how to navigate them.
For more information on the City of Bryan and Local Area Traffic Management, please contact:
Engineering Services
300 South Texas Avenue
Bryan, Texas 77803
Email Us